Libraries
University Libraries Annual Book Sale Coming Soon!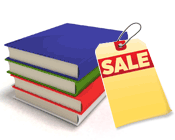 Western Illinois University Libraries will be hosting their annual Book Sale Monday, February 7, 2011 through Thursday, February 10, 2011 from 10:00 a.m. until 6:00 p.m. in the Leslie F. Malpass Library, Staff Lounge, located on the first floor. The sale is open to the public and most books are priced at $1.00 each, with nothing over $3.00. Sales are based on first come, first serve and no early sales will be allowed. All proceeds go to the Library Atrium Society for the purchase of new materials.
In the meantime, donations are still being accepted. If you have any questions or are interested in donated materials for the sale, please contact Greg Phelps, Library Specialist, at 309-298-2730 or via email at gw-phelps@wiu.edu.