Libraries
The Civil War, The People's War; One Historian's View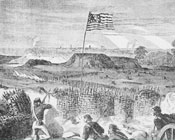 University Libraries will recognize the 150th Anniversary of the Civil War with a lecture and displays in the next few weeks.
On Wednesday, June 8, 2011, Dr. Larry Balsamo will present a lecture entitled "The Civil War, The People's War; One Historian's View" at 2:30 p.m. in the Garden Lounge of the Leslie F. Malpass Library. Dr. Balsamo will focus on what the Civil War was about: the causes, the scope, and the short and long range impacts on our society and history. Much attention will also be given to how the war affected the lives of the people who lived through it.
In addition, the Archives and Special Collections Unit has placed two displays in the Leslie F. Malpass Library, to promote library collections and local historical artifacts. The first display, "Civil War Classics" is located on the second floor, between the New Books Area and the Garden Lounge, and contains historical books about the Civil War. During the past 150 years, approximately 65,000 books have been published on the Civil War. The focus of this display is notable histories that help to make sense of the war effort, from both the northern and southern perspectives.
The second display, "John George Nicolay and John Milton Hays: Regional Civil War-Era Lincoln Biographers" is located in the small display case located in the Garden Lounge area. The items on display come directly from the Archives and Special Collection Unit and emphasize our region's role in the Civil War. Items displayed include compilations of letters, diaries, and biographies of Lincoln, originally published by personal secretaries Nicolay and Hay, of Pike and Hancock counties in west-central Illinois. Also, there will be a reproduction of a genuine Lincoln signature recently acquired by the unit.
Patrons are encouraged to stop by the Leslie F. Malpass Library and peruse the displays from now until the end of June. The lecture is free and open to the public. If you have any questions or concerns, please contact Kathy Nichols at 309-298-2717 or via e-mail at k-nichols@wiu.edu.