Libraries
Digital Information Glut and American Culture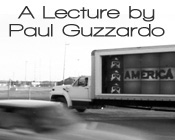 University Libraries and the Department of English and Journalism are honored to host local designer and lawyer, Paul Guzzardo. Guzzardo's lecture, "How to Scavenge and Survive Inside a Wikileak Dumpster_ and Don't Even Think About Prospering" will take place on Thursday, February 24, 2011 at 6:00p.m. in the Leslie F. Malpass Library, Garden Lounge.
Mr. Guzzardo maps the devolving state of the American public sphere. He is interested in epistemology and where urban designers, traditional creative practitioners and collectors fit, and or don't, in a zoomed out digitized culture. He looks to the street as the place to probe how we're being changed by the sweep of information technologies. Mr. Guzzardo's writings have appeared in blogs, academic monograms, popular journals, including AD Architectural Design. He is also a presenter in the "Visionary Urban Design Lecture Series" at The School of Architecture at Pratt Institute.
Please join us for a unique and enlightening talk. The lecture is free and open to the public. Please contact Tammy Sayles at (309) 298-3298 or via e-mail at TJ-Sayles@wiu.edu.