Libraries
University Libraries on Display at TechFest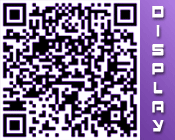 University Libraries will participate in the College of Education and Human Services 12th Annual Tech Fest on Wednesday, April 27th from 11:00 a.m. to 1:00 p.m. in the Horrabin Hall Gym. The latest technology available to assist with your research for business or pleasure will be showcased. Hands on, demos, and pamphlets, such as: the Digital Libraries, Adobe Connect, NLM MedlinePlus, and ChemDraw will be presented.
For additional information about Tech Fest, please visit http://www.wiu.edu/coehs/coehs_week/tech_fest/.
Please contact Linda Wade, Unit Coordinator for Digitization at (309) 298-2289 with any questions or concerns.