Libraries
Fall Listening Parties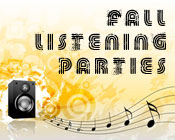 University Libraries will host six listening parties this semester. According to Bill Thompson, "We tried the listening parties last year, and they were very popular. This year we are offering even more parties and are very excited to hear the variety of music played." The music festivities are:
Thursday, September 1, 2011

My Punk Party featuring Rebekah Buchanan

Wednesday, September 7, 2011

Music from 61455 featuring Justin George and Josh Fink

Thursday, October 6, 2011

Political Rock of (the) Ages featuring Sean Cordes

Thursday, November 3, 2011

Way Past Midnight featuring Dennis Devolder

Thursday, December 1, 2011

All Warren Zevon all the Time featuring Mark Dial

Thursday, December 8, 2011

Desert Island Disks featuring Rod Sharpe
All listen parties will take place in the Leslie F. Malpass Library, room 180 at Noon. The parties are open to anyone and attendees are encouraged to bring their lunch.
For more information about the Listening Parties, please contact Tammy Sayles at TJ-Sayles@wiu.edu or by calling 309-298-3298.