Libraries
University Libraries Participates in New Legal Self-Help Center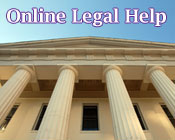 (Macomb, IL.) Judge Patricia A. Walton and Circuit Clerk Kim D. Wilson recently announced the opening of a new online legal self-help center. The new center is available twenty-four hours a day, seven days a week at http://mcdonough.illinoislegalaid.org from any computer connected to the internet. Western Illinois University's Malpass Library, is one of three participating libraries in McDonough County that have agreed to provide public access computers for participants. The public access computers at WIU are located in the Government and Legal Information Unit on the 4th Floor of the Malpass Library. Librarians at all three libraries have been trained to show people how to use the website.
The McDonough County Legal Self-Help Center was developed to provide accurate information on Illinois law to the growing number of people who must come to court and represent themselves. "In these difficult economic times many individuals and families in McDonough County are having a difficult time making ends meet. When they have a legal problem, they are often unable to find an attorney to help them. Prairie State Legal Services cannot represent all of the people who need help and so these individuals must come to court without an attorney to help them," said Judge Walton. "The new legal self-help center will give these unrepresented individuals a place where they can learn about their legal problem and find court forms which they can use," she continued. "Of course, wherever possible we encourage all litigants to find an attorney to represent them but the reality is that many people cannot afford to hire an attorney and Prairie State Legal Services does not have enough staff to handle all of the legal problems of people who are financially eligible," Judge Walton concluded.
"For people who do not have a personal computer connected to the internet, WIU's Malpass Library has public access computers which they can use," said Chuck Malone, coordinator of the government and legal information at WIU's University Libraries. "Our librarians have been trained to show people how to use the website and find the legal information that they need," he said. "How they use that information is up to them. We cannot advise people on what to do since that is the role of a lawyer," Malone said. "University Libraries are happy to be involved in this important project and working with the circuit court, Prairie Sate Legal Services and our colleagues at the Macomb Public Library and the Blandinsville-Hire Public Library," he concluded.
For additional information, please visit our website at http://wiu.edu/libraries/govpubs/legalaid.php or call the government and legal information unit at (309) 298-2722.