Libraries
Rare Manuscript on Display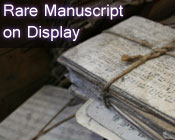 A rare and valuable late 17th-century manuscript, confirmed to be that of composer/singer William Turner (1651-1740), is currently on display in the Western Illinois University Libraries' Music Library (Sallee Hall 108). According to Roderick Sharpe, music librarian, the bound notebook contains English church music, including a full service-settings of the canticles for morning prayer (matins) and evening prayer (evensong)-as well as two anthems (psalm settings).
"The manuscript has been confirmed as the hand of William Turner, who was regarded as one of the most important musicians of the Restoration period. He served in the choirs of the Chapel Royal, St. Paul's Cathedral and Westminster Abbey," Sharpe said. "His surviving compositions are primarily of church music comprising more than 40 anthems, three services, a motet and a few hymn tunes and chants."
Sharpe added that the manuscript was an anonymous donation to the Western Illinois University School of Music in November 2010. He also said that only one of the anthems in this volume is a known work, noting that the rest of the music is believed to be unique to this source.
"A complication arises in the fact that an inserted title page, in a different hand, claims the service music is the work of Henry Aldrich (1648-1710), an important and influential polymath and composer of the day. Expert opinion, however, casts doubt about the authenticity of this attribution on stylistic grounds and asserts the authorship is more likely to be that of Turner himself," Sharpe explained.
The music library is open 8 a.m.-9 p.m. Mondays-Thursdays; 8 a.m.-4:30 p.m. Fridays; 1-5 p.m. Saturdays; and 1-9 p.m. Sundays. Viewing of the manuscript is open free to the public.
For more information, contact Sharpe at (309) 298-1105 or RL-Sharpe@wiu.edu.