Libraries
RefWorks No Longer Available after December 31st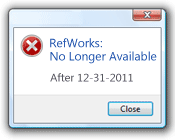 Due to budget exigencies and low usage, University Libraries regrets to inform you that WIU will no longer be subscribing to the RefWorks bibliographic software after December 31, 2011. If you are currently using this software and do not want to lose the citations that you have saved, it is recommended that you save your citations or export them to another bibliographic software. University Libraries does have access to another standard bibliographic software, EndNote Web. To access this, please go to the Libraries database page at http://www.wiu.edu/libraries/databases/. Then click on, under the letter "S", "Science Citation Index Expanded". Once you are in the Science Citation Index Expanded, click on the "My EndNote Web" link at the top of the page. This will take you to a page where you can create an account.
RefWorks does offer individual accounts for $100. For details, go to https://www.refworks.com/content/path_learn/purchase.asp.
If you have any questions or concerns regarding this transition, please contact Jeff Matlak at jg-matlak@wiu.edu.