Libraries
Super Summer Health Webinar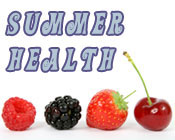 Spring has sprung, summer is right around the corner, and University Libraries wants to help you make it a great one! Join us for an hour of handy hints using free consumer health resources to ensure a happy sun season. Topics include advice for alleviating summer allergies, outdoor safety, the lowdown on sunshine, foods for summer health, seasonal depression, and more!
The free webinar will take place on Thursday, March 24, 2011 at 11:00 a.m. You can join the event in our online meeting room from any computer or web enabled device by logging in at http://bit.ly/gXLwIe and logging in with your name in the guest log in box.
If you have any questions, please contact Sean Cordes at (309) 298-2785 ext. 3 or via e-mail at CS-Cordes@wiu.edu.