Libraries
Halloween Alert!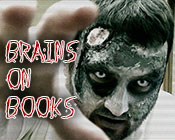 A zombie has recently been spotted looking for books in the library, look below for more information!
The Instruction Unit at the WIU library created this video to introduce the process of locating a book at the Western Illinois University Libraries.
The Team Members are:
Sean Cordes-Instruction Unit Coordinator
Justin Georges-Instructional Materials Specialist
Anthony Young-IDT Student (Animation/Visual Effects)
Special thanks to:
CITR: http://www.wiu.edu/CITR/
Maggie Obrien: Access Services
George Romero (there would be no zombie meme without him)
Happy Halloween!