Libraries
Malpass Mini-Golf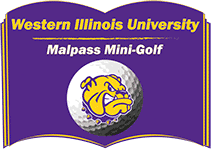 Malpass Mini-Golf a Success
The first Malpass Mini-Golf fundraiser was held on Saturday, November 03, 2012 in the Leslie F. Malpass Library.
"We had a great time," says Michael Jones M.S. '12, Director of Development for University Libraries. "Nearly 200 people played our 12-hole miniature golf course inside Malpass Library, and we raised almost $2,500 for the Library Atrium Fund, thanks in large part to our community sponsors."
The holes were dispersed throughout the building, where faculty, staff, and students were on hand to talk about library services and offer any assistance. "I was really pleased to have so many students on hand to help with the event," said Adam Frankhauser '06, event co-coordinator. "It was really fun to see so many families, WIU students, faculty and staff come out and play."
"We are especially thankful to our sponsors for their support. Their generosity ensured a successful and entertaining event," said Jones.
2012 Event Slideshow
HOLE SPONSORS:
Discount Furniture & Bedding
Prize Sponsors
Low Score Prize Sponsor
Questions may be directed to Michael Jones at (309) 298-2356 or via e-mail at m-jones2@wiu.edu or Adam Frankhauser at (309) 298-2762 or via e-mail at an-frankhauser@wiu.edu.