Libraries
Shaking the Heartland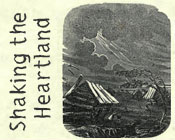 Dr. Leslie A. Melim, Professor of Geology, will present a talk on the New Madrid Earthquakes of 1811-1812 in the Garden Lounge of the Leslie F. Malpass Library on Tuesday, April 10, 2012 from 7:00 – 8:00 PM. Dr. Melim teaches introductory and advanced geology classes. Her research interests include caves, microbes and sediments.
A series of very large earthquakes occurred near New Madrid, Missouri, between December, 1811 and February, 1812. The magnitude of the quakes is unknown, but it is believed that several of the quakes had magnitudes greater than 7. They triggered widespread liquefaction and landslides, swamped boats along the Mississippi River, and toppled chimneys and log cabins over hundreds of miles. They were felt as far away as Montreal, New York, Washington, D.C. and Charleston, S.C. Dr. Melim will talk about the historic record and the geology of why these astounding earthquakes occurred in such an unlikely location--and could happen again!
Any questions, please contact Linda Zellmer at LR-Zellmer@wiu.edu or Tammy Sayles at TJ-Sayles@wiu.edu or by calling 309-298-3298.