Libraries
The Art of Making Turkey Calls with Del Kruzan and Tom Dunstan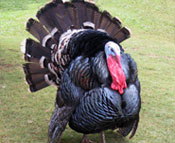 Date: 11/14/2013
Time: 7:00 pm
Location: Western Illinois Museum
The Western Illinois Museum and the Western Illinois University Libraries will present The Art of Making Turkey Calls with Del Kruzan and Tom Dunstan on Thursday, November 14 at 7:00 pm. at the Museum on S. Lafayette Street. The talk is part of a series of programs in celebration of the traveling panel exhibit, From Generation to Generation, which explores how Illinois Folk Artists are passing on their craft to others. Join master turkey call maker and collector, Del Kruzan, and his student, wildlife professor, Dr. Tom Dunstan, as they "talk turkey." They will show examples of their calls and demonstrate how they are used. This informative talk delves into the history, biology, musicality, and the folk art of turkey calling in North America, and promises a few chuckles, putts, and purrs! The event will take place at the Western Illinois Museum, and is free and open to the public.
An alumnus of WIU, Del Kruzan, taught Spanish at Macomb High School for 33 years, and is a man of many talents. He is known for his custom fishing rods and automotive restoration. Del also plays guitar, mandolin and ukulele. Dr. Tom Dunstan, Professor Emeritus of Biology at Western Illinois University, is one of the nation's foremost authorities on birds of prey. During his tenure at Western Illinois University, he developed courses that focused on wildlife ecology, and later served as Interim Director of the Institute for Environmental Studies. In 2011, he was inducted into the Illinois Outdoor Hall of Fame.
The traveling panel exhibit, Generation to Generation: Folk Arts of Illinois, will be on display at the Leslie F. Malpass Library and the Western Illinois Museum through November 21st during the library's and museum's regular hours. The exhibit was produced by Company of Folk with partial support by a grant from the Illinois Arts Council Agency, and the National Endowment for the Arts.
The Western Illinois Museum is located at 201 South Lafayette Street, one block south of Macomb's Courthouse Square and is open Tuesday through Saturday from 10:00 a.m. to 4:00 p.m. Admission to the museum is free; donations appreciated. For more information visit the museum's web site at http://westernillinoismuseum or contact the museum at 309.837.2750.