Libraries
A is for Arab Exhibit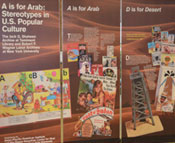 A is for Arab Exhibit: Stereotypes in USA Popular Culture will open on Wednesday, January 15th with a reception in the Leslie F. Malpass Library, Garden Lounge.
This eight-panel exhibit offers an overview and historical context for the images of Arabs and Muslims found in popular culture in the USA for over a century. The display shows images taken from movies, comic books, and editorial cartoons which, when seen in close proximity to one another, demonstrate the dominant patter of negative images that has prevailed in depictions of Arabs and Muslims in America. The exhibit challenges viewers to consider the impact of stereotypes on both individual perceptions and national policy.
The exhibit is on loan from the Jack G. Shaheen Archive at New York University, the exhibit reflects the work of Professor Shaheen, Faculty Emeritus of SIU, Edwardsville, and Distinguished Visiting Scholar at NYU's Asain/Pacific/American Institute. He is the author of "Reel Bad Arabs: How Hollywood Vilifies a People" and "Guilty: Hollywood's Verdict on Arabs After 9/11".
On Wednesday, January 15th, the Islamic Center of Macomb will host a reception in the Garden Lounge from 3:30 to 5:30 p.m. Dr. Shaheen will discuss the exhibit over Skype at 4:00 p.m. in LCC2 in the Leslie F. Malpass Library.
The exhibit will be available for viewing during regular library hours January 15 through 10:00 a.m. on January 23, 2014.
The event is sponsored by the WIU Expanding Cultural Diversity Project, University Libraries, Center for Innovation in Teaching and Research, and the Islamic Center of Macomb.