Libraries
Farewell Dr. Felix chu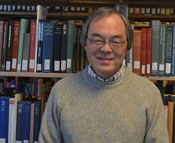 In May, University Libraries will say a fond farewell to Dr. Felix Chu, Associate Dean for Library Operations. Dr. Chu will retire May 31st, after 30 years of service.
Dr. Chu began his career at Western Illinois University Libraries in 1984, as the Automation Librarian. Since that time, he has held multiple titles, including Assistant to the Acting Dean, Reference Librarian, Cataloging and Assessment Librarian, Interim Dean, and finally, Associate Dean. He has served under seven Library Deans, and six University Presidents. Originally hired as the Automation Librarian to oversee the Library Computer System that managed the circulation in a state-wide consortium, Felix has since managed the two computerized catalog system changes.
"During my career at Western Illinois University Libraries, I have had the pleasure of working with a variety of departments, both within the library and the campus community", said Chu, "It's a nice place to work where I've had the freedom to do the things I want. I've held several positions, and each time I've been able to shape the new position into what I wanted to see it become".
Some of Felix's fondest memories of WIU include the inauguration ceremony for President Wagner. "We marched in full regalia from the Union through campus to Western Hall. It was the last time we held such an elaborate ceremony for a new President", said Chu.
"Felix has a unique way of conceptualizing and articulating complex challenges", said Hunt Dunlap, Systems Librarian, "He has insights others miss, and analyses that one would do well to evaluate and understand. I will miss Felix and wish him all the best."
University Libraries will host a retirement reception for Felix on Thursday, May 1, 2014 from 2-4 p.m. in the Leslie F. Malpass Library Garden Lounge. The reception is open to the public, and attendees are encouraged to come and celebrate Felix's successful career, share stories, and wish him well on his new adventure.