Libraries
Marilyn Shelley to Retire after 40 Years of Service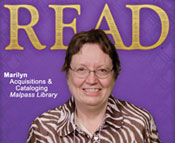 University Libraries will celebrate the career and service of Marilyn Shelley, Senior Library Specialist, with the Acquisitions/Cataloging Unit, on Thursday, May 29, 2014 from 2:00 p.m. to 4:00 p.m. in the Garden Lounge of the Leslie F. Malpass Library. The reception will commemorate Marilyn's 40 years of service to University Libraries.
Marilyn began her career as a Library Clerk II in the Cataloging Department on February 28, 1974. "I have seen many changes in the library throughout my career", said Shelley, "from a card catalog to an online system, 35mm films to DVDs and online videos, to electronic journals. When the library first started using OCLC (Online Computer Library Center), we had two terminals in the building, and each of us was assigned a two hour shift to use the computer to look up bibliographic records."
Photography is a passion for Marilyn and she enjoys photographing the Colchester Labor Day events. She is active in the Colchester Historical Society, Bethel Baptist Church, and the Colchester Lions Club.
University Libraries would like to welcome you to join with us as we celebrate Marilyn's 40 years of service at the reception on May 29th. Comments will be given at 2:30 p.m.