Libraries
War of the Rebellion Material Compiled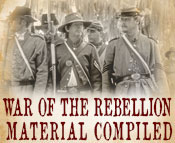 Linda Zellmer, Government Information & Data Services Librarian in the WIU Libraries Government, Legal, Spatial, and Data Services Unit, recently developed a web site with links to the War of the Rebellion volumes available in the Internet Archive. The War of the Rebellion is a collection of primary source materials that includes Union and Confederate correspondence, orders and reports dealing with daily operations during War. The War of the Rebellion is a compilation of the official records of the Union and Confederate Armies that were published by order of Congress by the Government Printing Office between 1881 and 1901. The site also includes links to the volumes on activities of the Union and Confederate Navies.
"The volumes included on this web site are openly available to the general public, free of charge", said Ms. Zellmer, "this website compiles all of the volumes that are available in one location, which makes it easier to search for information on the Civil War. The volumes could be used to research historical battles and activities of officers during the War, which makes it a great resource for genealogists".
The website, located at http://wiu.edu/libraries/govpubs/war_ofthe_rebellion/, is divided into four parts: indexes, Army Records, Navy records, and other U.S. Government Reports. Information on how to search for information about specific battles or people is also included on the website.