Libraries
Devine, Eaton, and Sealey to Receive Graham Scholarship Awards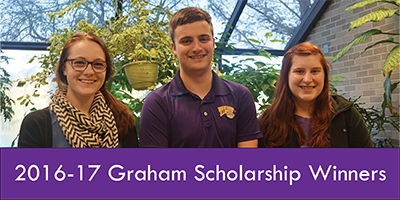 Sara Devine, Rachel Eaton, and Kyle Sealey, student employees in University Libraries, have been selected as the recipients of the 2016-2017 William H. and Eva Little Graham Libraries' Student Assistant Scholarship. This scholarship is awarded to student employees who have demonstrated excellence in the performance of their work assignments.
Sealey, a junior majoring in history education, said of the award "I'm really happy to receive this because it will make my summer study abroad more affordable." Sealey will be spending two weeks in the Bavarian Alps next year, studying German history.
Eaton, also a junior history education major, said "I'm grateful to be able to continue my education and to work in a department so related to history." Eaton works in the digitization unit of WIU Libraries, which makes available online pre-Internet issues of the Western Courier and other publications from throughout Western's history as a school.
Devine, a sophomore majoring in music education, expressed gratitude for the award by saying "It's nice to have this help, as things get expensive with so many classes." Devine is currently taking 21 credit hours.
All three students displayed respect and thankfulness towards the supervisors that nominated them for the awards: Greg Phelps (Sealey), Julia Thompson (Eaton), and Heather Piper (Devine). These positive feelings were also expressed in the opposite direction via the glowing recommendation letters supervisors wrote, as well as by the administrators who awarded the scholarship. Dean of Libraries Michael Lorenzen stated, "We are truly pleased to give these three students this scholarship. They are great representatives of the high caliber of library student workers."
For more information about the Graham Scholarship visit http://www.wiu.edu/libraries/administration/development/grahamScholarship.php or contact the Library Administrative Office at 309-298-2762.