Libraries
Finals Stress Relief in University Libraries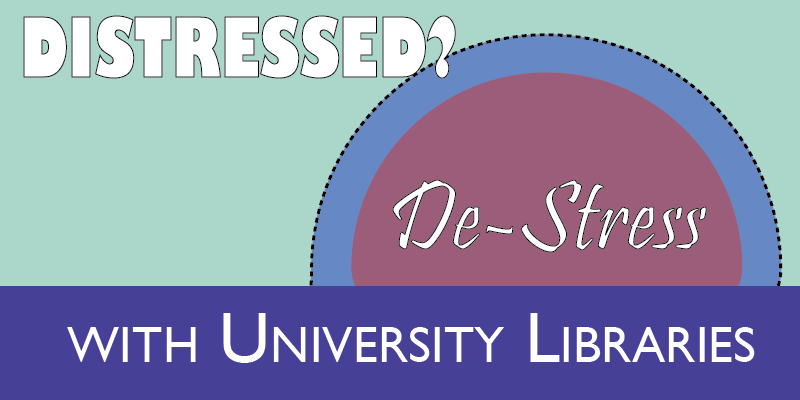 To help students cope with the unique pressure that comes with preparing for final exams, Western Illinois University Libraries will once again offer opportunities for stress relief within the Leslie F. Malpass Library and the branch libraries. Featured this semester are visits from Moose the Therapy Dog, a positive thinking labyrinth, and a "chill out" study room with music and comradery. These activities will be provided at various times in the week leading up to finals as well as finals week (May 2nd – 13th).
According to Christina Norton, outreach librarian, the highlights of this semester's offering include:
Moose the Therapy Dog will be visiting Malpass Library again, on both May 9th and May 11th, from noon to 1:30 PM.
Room 180 in Malpass Library will be transformed into a welcoming study space, with a relaxing study-oriented soundtrack, from 6 to 7:30 PM on May 4th and 5th.
Free coffee (while supplies last) will be given out starting at 5 PM on May 2nd, 3rd, and 4th.
A cookie giveaway, facilitated by the Library Leadership Board, will take place at 5:30 PM on May 8th and 9th.
Activities such as coloring pages, WIU-themed crosswords, a positive thinking labyrinth, and jigsaw puzzles will also be available in Malpass for the entirety of the two weeks, for students to use during study breaks or between exams. Coloring pages and puzzles will also be available in the Music Library, the Curriculum Library, and the Physical Science Library.
"We encourage anyone preparing for finals within University Libraries to take part in these activities when they need a mental break from studying, or something calming to do before an exam," said Norton. "And if they need any assistance with those preparations, they should feel free to speak to a librarian. We'd be happy to help."
For more information, contact Norton at (309) 298-3298 or via email at CA-Norton@wiu.edu.