Libraries
Wikipedia Editathons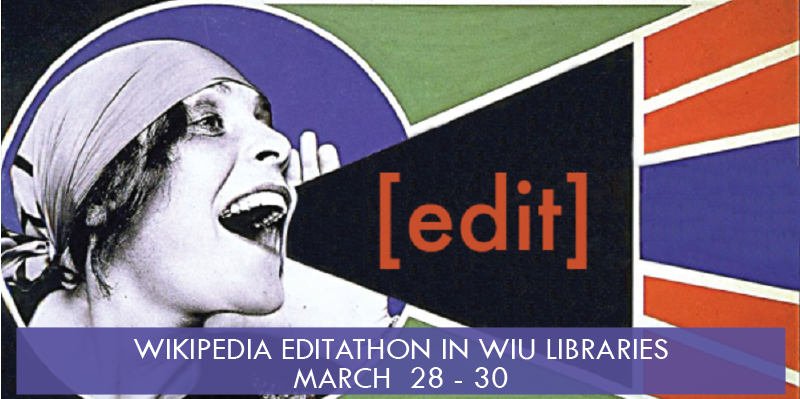 To celebrate both Open Education Week and Women's History Month, University Libraries will host a series of Wikipedia editathons during the week of March 27th through 31st. During these editathons, participants can use library-supplied computers (or their own) to make edits to Wikipedia, creating or improving articles about women, especially women in the arts, based on quality sources. These efforts will help improve both the overall quality of Wikipedia and address the 'gender gap' in Wikipedia's coverage.
While anyone can edit Wikipedia on their own at any time, the editathons at Malpass Library will take place in the Garden Lounge on the following days and times:
Tuesday, March 28th: 1 PM through 6 PM
Wednesday, March 29th: 1 PM through 5 PM
Thursday, March 30th: 12 PM through 5 PM
Anyone wishing to participate can come to the Garden Lounge during these times and enjoy guidance from librarians in choosing sources, identifying improvements to make, and technical help with using Wikipedia. Light refreshments will also be available.
Open Educational Week is an international observance, organized by the Open Education Consortium, to bring awareness to "resources, tools and practices that employ a framework of open sharing to improve educational access and effectiveness worldwide." Wikipedia, being freely available, is an open educational resource, though its quality on different topics can vary. One such area is gender coverage: biographical articles about men far outnumber those about women, and Wikipedia editors are far more likely to be male as well. Several Wikipedia projects, such as Women in Red and Art+Feminism, seek to rectify this by specifically encouraging people to create and improve articles about women, and for women to become editors. The University Libraries editathon is modeled on these projects, with the further goal of helping people improve their source evaluation skills, identify bias, and recognize the use of different information sources in different contexts.
This event is free and open to anyone at WIU and in the surrounding communities, regardless of gender. For more information, contact Christina Norton at ca-norton@wiu.edu or 309-298-3298.