Quad Cities Campus
Holocaust Curriculum Cases
For teachers in grades 6 through 8.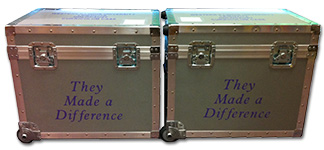 Locations
WIU-Quad Cities Campus

3561 - 60th Street
Moline, IL 61265
309/762-1598

Mississippi Bend AEA

729 21st Street
Bettendorf, IA 52722
563/359-1371
Contents
Resource guide for teachers (CD)
Classroom set of books (30)
Small group / literature circle sets (6)
Single copies of fiction and nonfiction (32)
Media (CDs, DVDs, Posters)
Reference materials
Benefits
Through understanding the lessons of the Holocaust you can help students recognize that they can make a difference by:
Treating others respectfully and fairly
Being compassionate and kind
Working together with others
Being courageous
Being determined and resourceful
Persevering and not giving up
Understanding that choices have consequences
Embracing differences
Developing a sense of questioning
Other Resources
Many of the resources found in the Holocaust Curriculum Cases can also be found in the Jeff Leibovitz Special Collection Holocaust Educational Materials, also located at WIU-Quad Cities.
Funding
The Holocaust Curriculum Cases were funded by contributions from the Community Foundation of the Great River Bend, the Rock Island Community Foundation, and the Jeff Leibovitz Memorial Fund, Western Illinois University.
Inventory List For Holocaust Curriculum Cases
Contents are contained in two cases
Multiple Copies

Ten Thousand Children (Fox) (30 copies)
Assignment: Rescue: An Autobiography (Fry) (6 copies)
Boy Who Dared (Bartoletti) (6 copies)
Daniel's Story (Matas) (6 copies)
Hana's Suitcase (Levine) (6 copies)
Memories of Anne Frank (Gold) (6 copies)
Yellow Star (Roy) (6 copies)

Single Copies (32)

Anne Frank: Beyond the Diary (Van der Rol)
Boy in the Striped Pajamas: a Fable (Boyne)
Cats in Krasinski Square (Hesse)
Doll with the Yellow Star (McDonough)
Elly (Gross)
Family Secret (graphic novel) (Heuvel)
Four Perfect Pebbles (Perl)
Hero and the Holocaust (Adler)
Hidden Child (Millman)
Hitler Youth (Bartoletti)
Holocaust: A Primary Source History (Bartel)
I Promised I Would Tell (Weitz)
Journey that Saved Curious George (Borden)
Luba: the Angel of Bergen-Belsen (McCann)
Memories of Survival (Krinitz)
Milkweed: a Novel (Spinelli)
October '45: Childhood Memories of War (Besson)
Parallel Journeys (Ayer)
Passage to Freedom: The Sugihara Story (Mochizuki)
Remember World War II: Kids Who Survived… (Nicholson)
Run Boy Run (Orlev)
Searching for Anne Frank: Letters from… (Rubin)
Secret of Priest's Grotto (Taylor)
Shadow Life (Denenberg)
Smoke and Ashes: Story of the Holocaust (Rogasky)
Surviving Hitler: A Boy in the Nazi Death Camps (Warren)
Tell Them We Remember (Bachrach)
Terrible Things: An Allegory… (Bunting)
We are Witnesses: Five Diaries of Teenagers… (Boas)
Who Was the Woman Who Wore the Hat? (Patz)
Witnesses to War (Leapman)
Your Name is Rene (Cretzmeyer)

Media

Assignment: Rescue (VIDEO)
Assignment: Rescue (Pamphlet)
Auschwitz: If You Cried, You Died (DVD)
Composers of the Holocaust (CD)
Echoes and Reflection (Curriculum Notebook + DVD)
Local Survivors (POSTERS)
Nicholas Winton: Power of Good (DVD)
One Survivor Remembers (KIT)