Multicultural Center
Meet the MCC Staff!
Professional Staff
Pronouns | She, Her, Hers
Director - Multicultural Center
Email: r-ayardochoa@wiu.edu
In her role as the Director of the Multicultural Center, Rocio (Row-see-o) is passionate about social justice, intersectionality, and developing students through education, engagement and leadership. She ensures the MCC provides a unique and empowering space for students to experience college life. It is also important that the MCC is a space on campus that offers a holistic learning experience allowing students to explore ethnic identity development, engage in social justice, community outreach, cultural expression, social and professional networking so they can become the best version of themselves. Her favorite place to travel is Rome, Italy. Her favorite movies are "Finding Nemo" & "Hidden Figures". One of her goals for this year is to meet as many new students as possible!
Favorite quote:
Feet, what do I need you for when I have wings to fly?

- Frida Kahlo
---
Pronouns | He, Him, His
Associate Director - Multicultural Center
Email: cw-ervin@wiu.edu
Carl serves as the Associate Director of the Multicultural Center. He assists students and the MCC in a commitment to growth, development, success and excellence. One of his goals for the year is to make each day a great day for someone. One of his favorite places to travel in the summer is Toronto, Canada. One of his favorite movies is Black Panther, and one of his favorite books is Dune by Frank Herbert.
Degrees: B.S. in Political Science from Illinois State University, M.S. in Education from the University of Wisconsin-Whitewater.
Favorite quote:
I don't know the key to success, but I do know that the key to failure is trying to please everyone -- John Wooden, Hall of Fame basketball coach who led UCLA to ten consecutive Division I Basketball championship titles 
---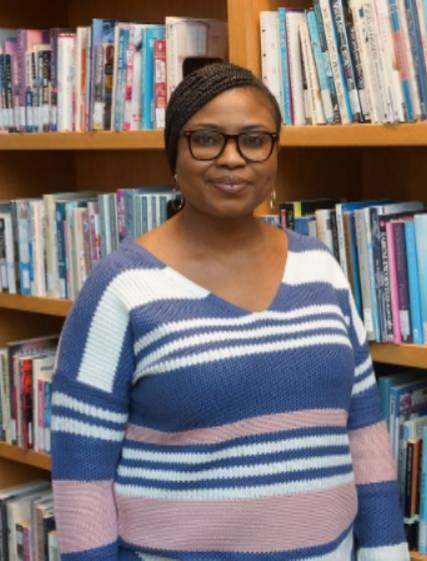 Pronouns | She, Her, Hers
Graduate Assistant - Women's Center
Email: oo-abiodun-adewusi@wiu.edu
Dammy is a second year graduate student of Public Health and a gender equality and global health advocate, who believes in a society based on equity and fairness to all. She has been involved with various work around women, female young adults and adolescent as well as disadvantaged girls back home in Nigeria where the female gender is categorized mostly as a second-class gender. Her main goal is to encourage and support a community that is based on fairness and justice in the distribution of benefits and responsibilities, where all sexes have equal conditions, treatment, and opportunities to achieve their full potential, human rights, and dignity, as well as to contribute to and benefit from economic, social, cultural, and political development.
Degrees: Masters in Public Health
---