Multicultural Center
Gwendolyn Brooks Cultural Center Events
The Gwendolyn Brooks Cultural Center is more than a meeting place and vehicle for the dissemination of cultural information. One of its most important functions is to provide a warm, friendly atmosphere where students from all ethnic backgrounds can come together and share the experience of university life. The center is located within the Multicultural Center in Suite 210 and includes the following facilities:
Staff offices-second floor
Reception area-second floor
Conference room-second floor*
Lounge-first floor*
*On-campus organizations and community groups can call the Gwendolyn Brooks Cultural Center in advance to reserve these spaces.
To promote their objectives the Gwendolyn Brooks Cultural Center presents several programs each semester. These programs promote diversity throughout the campus and community through education awareness, social activities, and community outreach.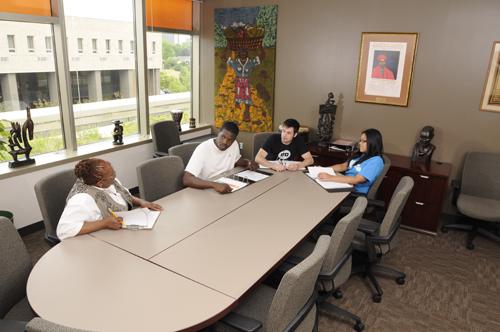 Feel Good Fridays (Various Fridays throughout the Academic year)

Black History Month

– Month of February 
Black Student Graduation
And more!