Sociology and Anthropology
Jacob Skousen, Assistant Professor of Anthropology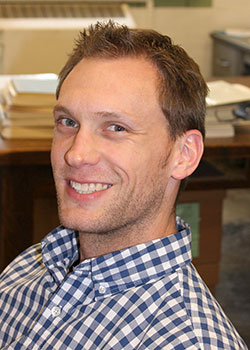 Ph.D., University of Illinois at Urbana-Champaign, 2016
M.A., Archaeology, Brigham Young University, 2009
B.A., Anthropology, Brigham Young University, 2006
Dr. Skousen joined the Department in 2022.
Contact Info
Office: Morgan Hall 401
Phone: (309) 298-1056
Email: J-Skousen@wiu.edu
Research Interests
I am a North American archaeologist with research interests ranging from pilgrimage, religion, identity, landscapes, and movement. Most of my work focuses on Late Precontact cultures throughout the Midwest, with an emphasis on the Native American city of Cahokia in southwestern Illinois. My current research involves the intersection of place, movement, and identity. I'm particularly interested in how moving through, dwelling in, and modifying certain spaces, places, and landscapes shapes emotions, memories, identities, and relationships with the wider world. My overall goals as an archaeologist are to make archaeology accessible and beneficial to descendant groups and local communities, disseminate archaeological and historical knowledge, and demonstrate the importance of the past in the present.
Teaching Areas
Archaeology, Field and Laboratory Methods, North American Archaeology, Late Precontact Societies, Mississippian Period, Cahokia, Community Archaeology, Cultural Resource Management
Courses
ANTH 111: Introduction to Physical Anthropology and Archaeology
ANTH 215: Fantastic Archaeology
ANTH 249: Native North American Cultures
ANTH 320: New World Archaeology: North America
ANTH 321: New World Archaeology: Central and South America
ANTH 325: Laboratory Analysis of Archaeological Material
ANTH 326: Archaeological Field Methods
ANTH 330: Sex and Gender in Archaeology