Libraries
Map Collection
About the Collection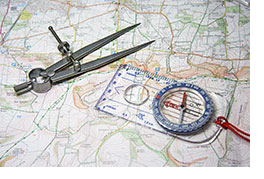 The Western Illinois University Libraries' Map Collection is located in the southwest wing of Level 4, Malpass Library. It contains more than 150,000 maps as well as aerial photographs, atlases and reference materials related to maps and cartography. The Map Collection includes cartographic materials on many geographic areas and a variety of subjects, with an emphasis on West-Central Illinois. It also contains plat books for West Central Illinois counties. The University Archives contains a small collection of historic maps, including plat books, Sanborn Fire Insurance Maps and U.S. Geological Survey topographic maps. The Map Collection receives most of its maps through the Federal Depository Library Program (FDLP), including topographic and geologic maps from the U.S. Geological Survey, U.S. Forest Service maps, nautical and aeronautical charts, Central Intelligence Agency maps, and GIS data produced by Federal agencies through the FDLP.
Collection Access
As part of the Depository Library Program, the Map Collection is open to WIU students, faculty and staff and the general public. Reference books and atlases can be located using WestCat, the WIU Libraries' online catalog. Most maps in the Collection are not cataloged. For information about maps available in the collection, please contact or visit the Map Collection (Telephone: 298-2722 or via E-mail. Maps available in the University Archives & Special Collections Unit can be located using WestCat.
Circulation and Reproduction
Most maps in the collection circulate for standard loan periods to local and university library users. See the WIU Libraries Circulation Policy for more information. Maps must be checked out and returned at the office of the Map Collection Coordinator, Room 438, on the West side of Level 4, Malpass Library. Selected materials are available for 2-week check-out only. If needed, scanners are available on Level 2.