Quad Cities Campus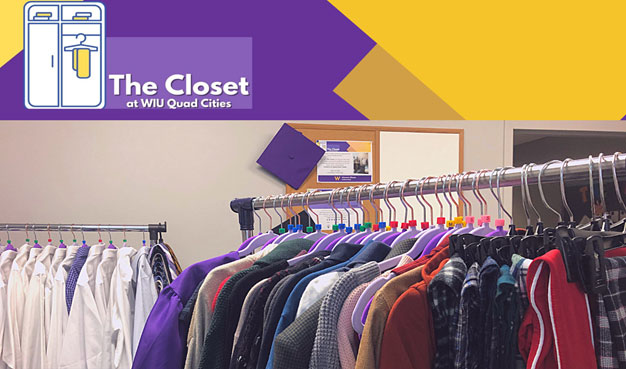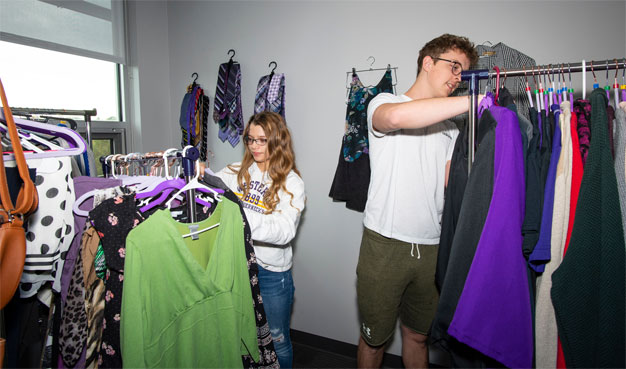 The Closet
QC Complex, Building C, Room 2414
All Students, Faculty, and Staff are Welcome!
---
About Us
Need an outfit to make a great first impression for an upcoming interview?
WIU-QC's The Closet can help you with that!
The Closet is a career closet on campus for students to pick out professional business clothing at no cost for their career-related needs. Inventory includes suits, blazers, skirts, button-down shirts, and more. Our goal is to help students build confidence and look their best throughout their job search so they can make a positive impression as they enter the professional world!
How It Works
Complete the Request Form. This gives us an idea of what clothes you are looking for and what to select for you.
Schedule a day/time on the Request Form to review the clothing picked for you.
Visit The Closet at WIU-QC to review, take, and keep the clothing items!
---
Hours of Operation
The Closet is open by appointment only Monday - Friday.
To make an appointment, please use our google form below, give us a call at (309) 762-9080 or send us an email at: qcstudentaffairs@wiu.edu
Contact Us
Phone: (309) 762-9080
Email: qcstudentaffairs@wiu.edu
Forms/Documents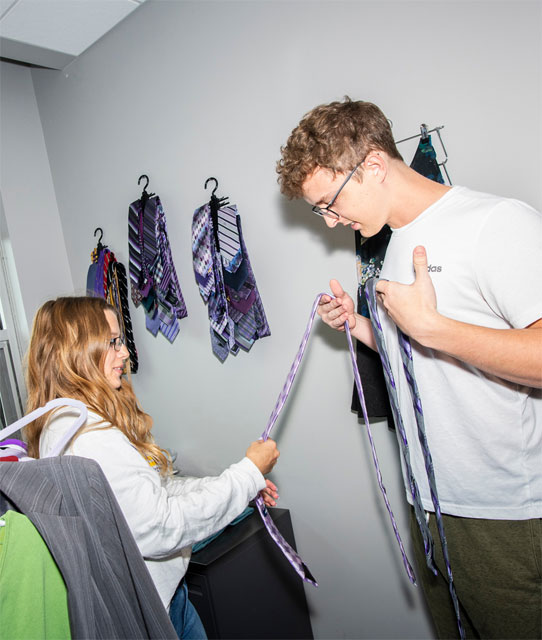 Donation Information
All donation items must be cleaned appropriately and free of any holes or stains. Items with any damage, without sizes clearly labeled, or outdated will not be accepted.
Appropriate items include professional/interview attire such as:
business suits
dress shirts
blouses
professional slacks and/or skirts
ties
portfolios
professional bags/purses
accessories
Guidelines
Business professional or business casual attire.
Good condition and up-to-date.
(Would you be okay wearing the article of clothing yourself?)
Clean. (Dry-cleaned or washed.)
Items with any damage and items without sizes clearly labeled will not be accepted.
Items not chosen for The Closet will be donated to a charitable organization.
Donations can be dropped off at QC Complex, Building C, Room 2414 or you may make a donation through The Closet's Amazon Wishlist.
The Closet wouldn't be possible without the generosity of our donors.
Thank you so much for your support!
---
Community Resources
Dress for Success of the Quad Cities
Western Illinois University-QC is a proud partner of Dress for Success Quad Cities.
Dress for Success supports a global movement to empower women.
Connecting women in the Quad Cities to a network of support, professional attire and development tools to help people thrive in work and in life.
Each client is provided with professional attire to secure employment.
Beyond apparel and accessories, clients experience increased confidence and opportunities.
Visit dressforsuccessqc.org/programs/style-her for registration information.
Contact Information
(563) 322-1010
suitings@dressforsuccessqc.org
423 E 32nd St, Davenport, IA 52803
facebook.com/dfsqc
List of Community Resources in the QC Area