Quad Cities Campus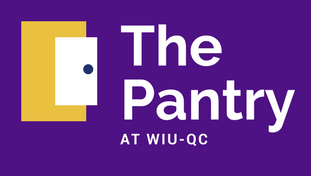 QC Complex, Building C, Room 2412
All Students, Faculty, and Staff are Welcome.
Open All 12 Months of the Year!
Mission
Our mission is to eradicate food insecurity for our entire campus community. We carry this mission with us all 12 months out of the year. We provide all WIU Students, Faculty, and Staff access to a collection of food items, hygiene products, and school supplies. Additional support such as assistance with clothing, employment services, counseling, obtaining housing and accessing community resources are offered.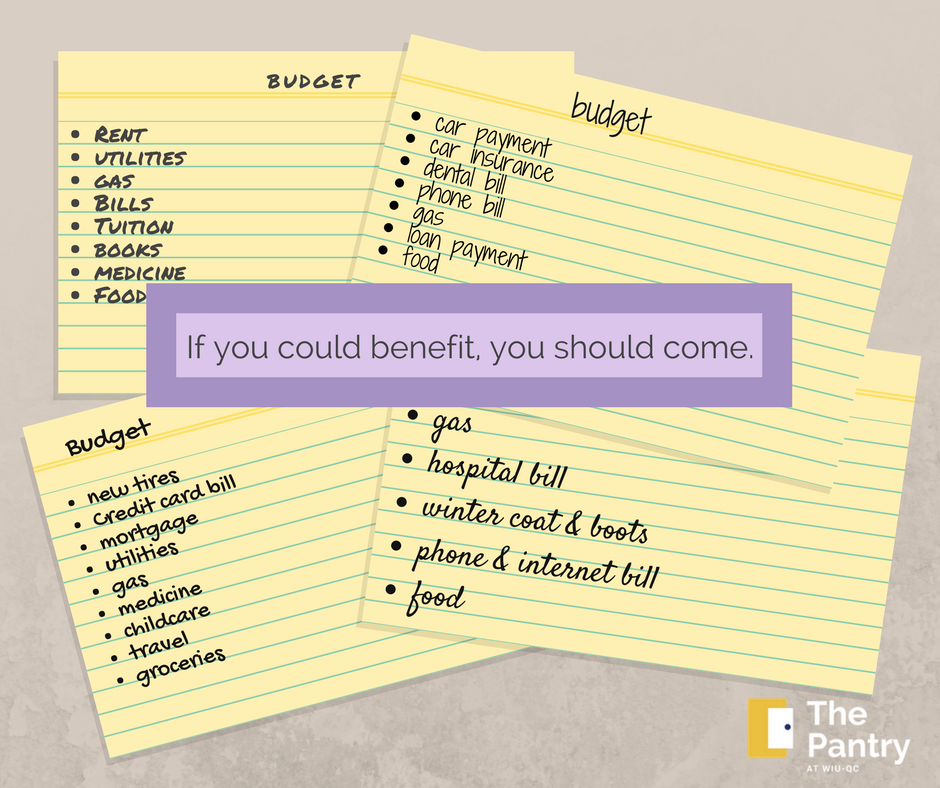 About Us
We are an on-campus resource for any student, faculty, or staff member of WIU-QC who is facing any amount of food insecurity. We are stocked not only with food, but also other household and personal care items. We do not require any documentation of need, simply complete our online form.
No matter how great or little your need, no matter how long-term or temporary, please come and receive what you need to be successful inside and outside of the classroom. No member of our campus community will ever be turned away.
 Utilizing the Pantry
If you would like to utilize the pantry we ask that you please bring your WIU I.D. with you so that we can verify that you are a student, faculty, or staff member.
To schedule browsing time or submit a request for an order using our online form. Appointment details will be confirmed via email from qcstudentaffairs@wiu.edu.
We have reusable bags available for your convenience that you are welcome to use when selecting your items and transporting them home.
Grab'n'go
Don't go to class hungry!! The Pantry now has grab'n'go items right outside our door--all day, every day! Stop by and pick up a snack. Hungry minds and full stomachs.
 Donations
What items does The Pantry accept?
We accept non-perishable items such as cereal, crackers, pasta, rice, nuts, peanut butter, jelly, granola bars, oatmeal, applesauce, canned items (fruit, vegetables, soup, pasta, meat, beans), etc. and hygiene and household items such as feminine need products, soap, shampoo, toothpaste, toilet paper, etc. as well as family need items such as baby food and diapers. In addition, we accept school supplies (notebooks, pens, highlighters, etc.)
We also accept perishable items such as fresh fruits or vegetables, bread, or dairy. However, these items need to be dropped off directly to The Pantry by appointment or during our operating hours. We have limited refrigerator space available so please contact us in advance.
How do I donate?
Most Convenient:
We also have an amazon wish-list with items that can be sent directly to our campus.
In-person:
We accept donations year-round whenever the university is open. Donation hours are Monday - Friday, 8:00 am - 4:00 pm. Please email us the day before you plan to drop off items. We have two donation bins on campus--one at the front entrance of Riverfront Hall and one near the QC Complex Atrium--that you may drop off your donation in at any time. Do not leave perishable items or monetary donations in the bins.
We now also accept monetary donations (cash or check)! Make checks payable to River Bend Foodbank and write WIU-QC on the memo line. Please drop off monetary donations at The Pantry or at the student services desk.
For larger donations, please email us at qcstudentaffairs@wiu.edu the day before you plan to drop-off and we can assist you.
If you have any questions about donating, please do not hesitate to contact us!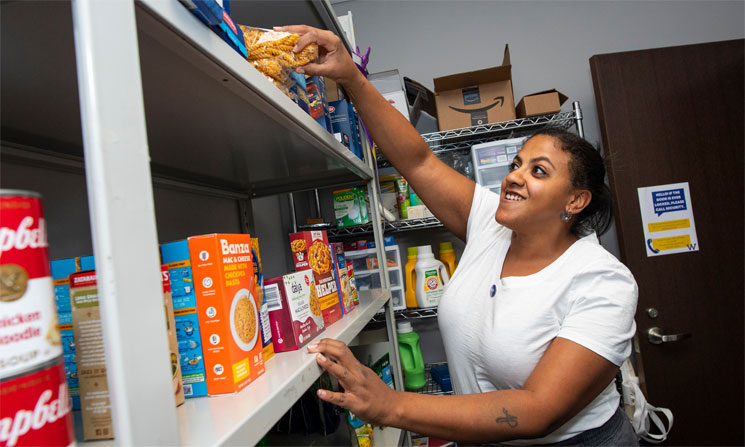 Like us on Facebook!
Hours of Operation
The Pantry is open by appointment only Monday - Friday.
To make an appointment, please use our google form, give us a call at 309-762-9080, or send us an email at: qcstudentaffairs@wiu.edu
Location
QC Complex, Building C, Room 2412
We are located on the 2nd floor of the QC Complex, Building C (clock-tower building), directly above student services.
Directions:
If you are coming from the QCC Atrium in building C, take the elevator to the second floor and walk down the hall until you see a signpost with The Pantry logo and an arrow.
If you are coming from QCC Buildings A or B--Take the sky-walk over to Building C, turn left and follow the arrow sign to The Pantry. 
If you are coming from the west parking lot, enter building C near the clock tower, take the stairs and walk straight until you see The Pantry arrow signpost.
Contact Us
Email: qcstudentaffairs@wiu.edu
Facebook: @thepantryatwiuqc
Phone: 309-762-9080