Libraries
Decker Press Collection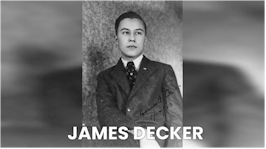 Decker Press Collection
(YouTube)
---
Richard Leekley Papers, 1912-1976
(Spec Col. SMS 1980-3)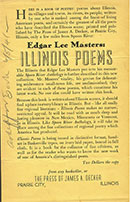 Papers assembled by Richard Leekley and donated by his son and daughter-in-law, Guy and Gorann Leekley, with additional papers from James Ballowe and Martha Graham.
The Decker Press was a publishing company once located in the small mid-western town of Prairie City, Illinois. This small press received national attention in the 1940's, when it published works written by noted authors such as Edgar Lee Masters, August Derleth, Hubert Creekmore, William Everson (Brother Antoninus), David Ignatow, Kenneth Patchen, Kenneth Rexroth and Louis Zukofsky. The story of the press reveals how a young man struggled to make a small publishing company thrive and eventually achieve national recognition only to have financial troubles plague the press, which ended with a murder-suicide case.

James Decker was born in Prairie City, Illinois, in 1917. The son of a drug store clerk, he graduated from Prairie City high school and attended Park College, near Kansas City. Decker had developed a love for poetry and was determined to make a contribution to the field. When Decker returned to Prairie City after college graduation, he obtained a small press and started The Decker Press. The press was set up in the back of his grandfather's drug store where he operated the press with only the help of his sister, Dorothy.
Decker's first publication was The Ship of Gold, by Warren L. Van Dine, of Hancock County, Illinois in 1937. In spite of the fact that publication of poetry volumes was an unstable business to be in, Decker printed over 50 volumes of poetry in the next five years. His printings were usually limited to a few hundred copies. In those early years, Decker was able to convince Edgar Lee Masters to let him publish two collections of the poet's works, Illinois Poems (1941) and Along the Illinois (1942).

The publication of these two works brought notable recognition to Decker and his press. The press was sought by many poets seeking to publish their works. The press continued to publish and increase its reputation, but not being a vanity publisher, Decker did not have much working capital to advertise his books. The press was sold to Harry Denman and then to Ervin Tax. Tax was a poet from Chicago who had contracted with Decker to print a volume of his poems. When the volume was not printed in a timely manner, Tax came to Prairie City to help expedite matters.
When he arrived the press had already been sold to Denman, and Tax ended up buying the press so he could print his own works. Decker and his sister, Dorothy, stayed on after the sale of the press to help the new owner, but Decker and Tax did not have a good working relationship so Decker and his family finally left Prairie City for Kansas. Dorothy remained in Prairie City to help Tax, and during this time, her feelings for Tax grew, but were not reciprocated. The publishing business of the Decker Press came to a sudden end in 1950 when Dorothy Decker shot Ervin Tax to death and then killed herself.
The collection contains unpublished typescripts about the Decker Press and James Decker, a checklist of imprints, correspondence, newspaper clippings, and historical articles.