Libraries
Illinois Regional Archives Depository
Illinois Regional Archives Depository at WIU!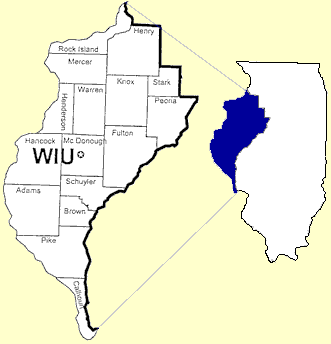 The Illinois Regional Archives Depository at Western Illinois University is one of seven depositories in the state which is administered by the Illinois State Archives.
The WIU depository houses county and local government records which have been appraised as having long-term value and been transferred to the Archives custody.
The 16 counties served by the WIU-IRAD include: Adams, Brown, Calhoun, Fulton, Hancock, Henderson, Henry, Knox, McDonough, Mercer, Peoria, Pike, Rock Island, Schuyler, Stark, and Warren.
Records housed in the depository differ for each county. The types of records which may be found are:
death and marriage records
deed records
probate records
tax records
naturalization records
---
Lists & Indexes
A complete listing of the holdings of all the depositories can be accessed through the State Archives Web site.
Online indexes of selected records at WIU include:
---
Administrative Histories:
---
Requests
The depository is staffed by graduate assistants who will research the records at your request. To submit a request, please limit your request to two names at a time and wait for a response before submitting another request. The request should include:
full name of person you are researching
approximate time span when the person may appear in the record
name of county
type of record to be searched
Requests for information should be sent to:
IRAD-WIU

University Libraries
Western Illinois University
1 University Circle
Macomb, Il 61455
(309-298-2716)
Requests are welcomed by mail or telephone, however the depository is unable to accept requests by electronic mail. Research services for IRAD materials are provided at no cost. There is a charge, however, for any copy costs which may be incurred. Photocopy charges are $.10 per copy, with a minimum charge of $1.00. Any requests which incur a charge of more than $5.00 will be verified with the researcher before the request is filled, unless the researcher gives prior authorization for the copying.


Researchers are welcome to visit our IRAD depository to examine records. The depository is open Monday through Friday, 8:00 a.m. to 4:00 p.m. The depository is closed any days the university is closed. Researchers are urged to call ahead to verify hours of operation before planning a visit.