Libraries
Resource Management Services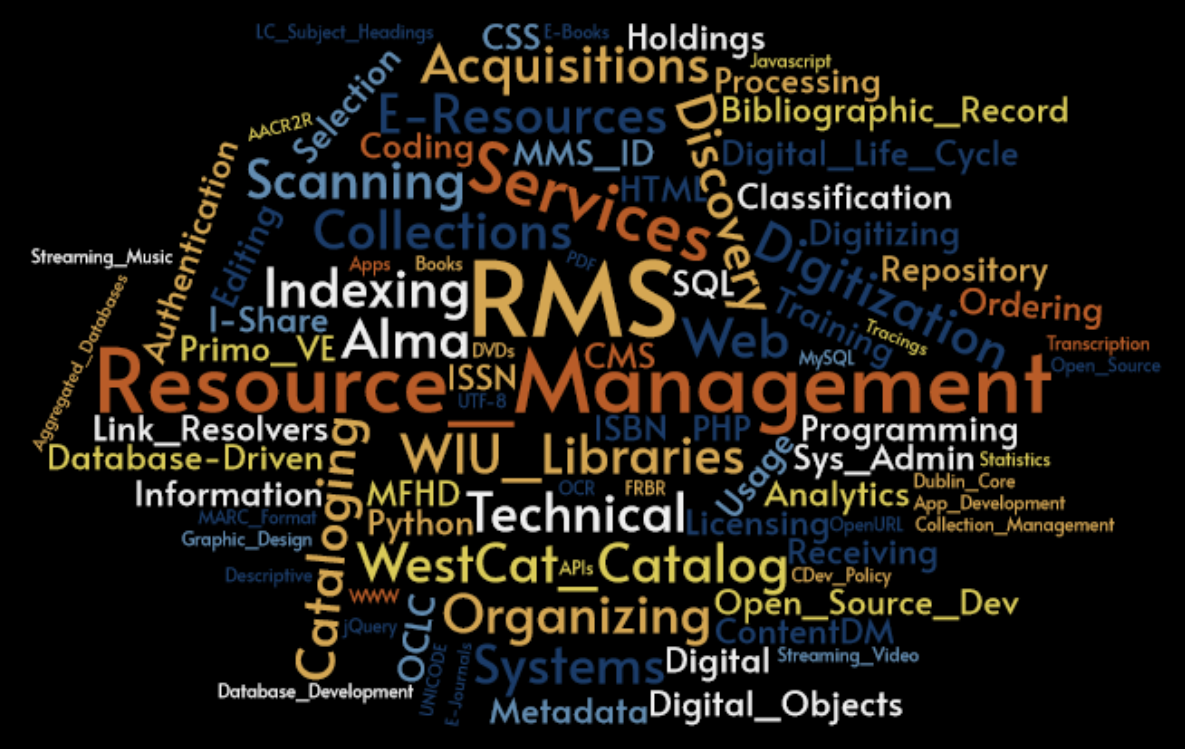 Overview
WIU Libraries' Resource Management Services (RMS) Unit encompasses the activities of acquisitions, cataloging, collection development, digitization, e-resource management, information systems and web services. Located on Malpass Library's main (2nd) floor, we work to acquire, organize and make content available in print and digital formats. We support library unit and branch operations, serving and assisting library personnel and the patrons who utilize library systems. Throughout, we endeavor to make intellectual content usable and accessible.
Acquisitions
Acquisitions is responsible for acquiring library materials and resources for the collection. Acqusitions is responsible for monitoring and disbursement of the library's materials budget; bibliographic verification, ordering, receiving and payment related to books, periodicals and non-print media; collection, sorting and distribution of the library's mail; and processing of gifts to the library. Acquisitions works closely with other RMS areas to collect, organize and make print and e-resources available.
Back to Top
Cataloging
Cataloging is responsible for organizing library materials and resources to facilitate access to the collection.
Back to Top
Collection Development
While we desire to collect in all areas of academic and intellectual inquiry, our central focus is on the curriculum and the materials which support our students' needs in terms of both instruction and research. Beyond this main objective, we will collect in areas of general information and reference, and recreational needs. Our goal is to create a high quality collection and appropriate online access to information. The Collection Development Librarian working with the Library Liaisons will monitor the selection process, evaluation of the collection, and allocation of the materials budget. Preservation and the process by which materials are withdrawn are also essential to the collection.
Back to Top
E-Resources
This area coordinates the library's selection and management of e-bibliographic resources including e-books, e-journals, aggregated databases and other digital packages.
Back to Top
Information Systems / Web Services
Information Systems administers the Alma integrated library management system and coordinates, develops and maintains WIU Libraries' web presence. We support library unit and branch operations, serving and assisting library personnel and the patrons who utilize library systems.
We take data and make it usable, both internally and externally as we create reports, facilitate online access to numerous bibliographic databases and information services, operate a Linux server, maintain a proxy server, develop customized database apps/systems, and design web user interfaces to enhance access to library collections and other e-services.
Information Systems coordinates with Library Computer Services, University Technology, and the CARLI consortium, facilitating access to e-resources/services in support of the Libraries' educational mission.
Back to Top