Scheduling & Event Services
Steps to a Successful Event in the WIU University Union
There are specific procedures and policies concerning the scheduling and use of facilities and service in the University Union. It is your responsibility to be aware of all expectations with regard to your event.
Scheduling Procedures
Banquet and meeting rooms are assigned on the basis of the type of event, the anticipated number of guests, and the availability of rooms. The University Union may change room assignments to accommodate larger or smaller attendance.
A request made does not guarantee a space, even if available at the time of request. Groups should not make any arrangements or do any advertising of the event until a confirmation copy of a reservation is received from the Scheduling & Event Services.
Major multi-purpose or food service rooms may be scheduled one year in advance. Recurring organizational meetings may be scheduled for the upcoming academic year beginning on April 15 of the preceding Spring Semester.
Reservations for meeting rooms must be made 48 hours in advance.
Rehearsals for recitals and special events are limited to one session.
All individuals and groups are expected to follow the itinerary scheduled for their particular events. Other groups may be using the facilities prior to or following your scheduled activity.
Room rental charges for use of space in the University Union will be incurred depending upon the nature of the event and identity of sponsoring groups.
For parking concerns and questions, please contact Parking Services at 298-1921.
Final room setups are due in the Scheduling & Event Services at least ten (10) days prior to event. All setup and equipment requirements should be included in request as the room will be set by the University Union staff according to these instructions. Failure to meet this deadline could result in cancellation of your event or implementation of a surcharge.
ADA Access to the University Union
ADA access to the University Union is available at the lower north entrance. Vehicles may use a designated area in the NE metered parking Lot #16M (a) for pick-up and drop-off of persons visiting the Union. An extra wide sidewalk from the parking lot to the Union entrance is available to accommodate wheelchairs. Walking and wheelchair access is also available from the west side of the Union (b) on the driveway behind the Union. Vehicles (cars, vans, trucks) are not allowed on any sidewalk approaching the University Union.
The east gates to the driveway behind the Union (c) may be opened to allow drop-off and pick-up of persons needing assistance who are attending major events in the Union only. ONLY cars and mini-vans will be allowed access. NO trucks. Special arrangements must be made in advance of any special event by the planner with Scheduling & Event Services in the Union.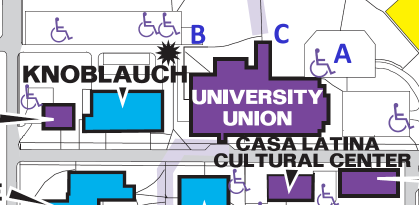 If you require a map of ADA access points to the Union in an alternative format, please contact oces@wiu.edu or (309) 298-2421.
Use of East Service Elevator by Vendors
Event sponsors of any event open to vendors in the Union Grand Ballroom may request the use of the East Freight Elevator to allow vendors access to move equipment/displays to that area. All arrangements must be made in advance through the Scheduling & Event Services in the Union - (309) 298-2421.
Union Policies
With proper scheduling of your activity, everything you need will be ready for your use. In order to prevent immediate or accumulated damage or depreciation to the appearance of the Union, please adhere to the following:
ONLY masking tape is to be used on painted or paneled walls and is only to be used in the rooms that have been rented. Velcro can be used from the Grand Ballroom's soffit.
NO nails, thumb tacks, staples or other devices are to be used.
The Grand Pianos are never to be placed on the stages.
Nothing may be attached to the velvet draperies in the Heritage or Grand Ballroom.
Electrical outlets should not be overloaded.
ALL display materials and/or decorations must be of non-flammable nature.
NO furniture arrangement or items displayed on the walls are to be moved.
Special arrangements for hanging banners, lights, etc., in any facility in the Union must be arranged with the Scheduling & Event Services at least seven (7) days prior to event.
No glitter, confetti, or similar decorations are to be used.
No Candles or others flammable items are allowed in the building unless they are purchased by Sodexo Campus Services or approved by the SES.
Western Illinois University is a smoke-free campus.
The University Union will assume no responsibility for damage or loss of any merchandise, articles, group displays, equipment, decorations or other property left in the facility preceding, during, or following any event. All is to be removed at the close of the event. Any such items left in the facility following an event will be discarded.
All lounge space is considered public space and is available only by special request. Approvals will be granted on a case-by-case basis. Room rental charges will be assessed.
Audio-Visual equipment is available on a limited basis in the University Union. Requests for same should be made in the Scheduling & Event Services at least two (2) weeks prior to event.
Sodexo Policies
All food and beverage service in the Union is provided by:
Western Illinois University Catering by Sodexo (309) 298-1292:
Menu arrangements must be made at least two weeks in advance.
Confirmation of final numbers for food events must be given at least 72 hours in advance. Final charges will be for the guaranteed number or actual attendance, whichever is greater.
There is no charge for cancellations made at least 72 hours in advance. Cancellations within 72 hours are subject to a service charge.
Alcoholic beverages are prohibited unless approval has been given in accordance with the "Policy and Regulations for the Sale and Provision of Alcoholic Beverages on Western Illinois University Property." All inquiries should be directed to the Scheduling & Event Services.
Final billing will reflect a discount on food for events charged to eligible University accounts. For all external accounts, a deposit equal to 25% of the projected food charges for events over $200 must be paid to Scheduling & Event Services when menu choices are finalized or at least two (2) weeks prior to the date of the scheduled event. Failure to pay the deposit by the due date will result in the event being canceled. The deposit will be retained by WIU for any even canceled less than two (2) weeks prior to the scheduled date of event. The deposit will be applied to the final charges for the event and an invoice will be sent to you following the event. All bookings will require a University ID number. All meals are subject to sales tax unless prior arrangements have been made.