University Union Board
HOMECOMING 2023 - Save the Date: October 6th - October 14th
Homecoming Week 2023
HOMECOMING PARADE LINE UP - 2023
HOMECOMING PARADE ROUTE - 2023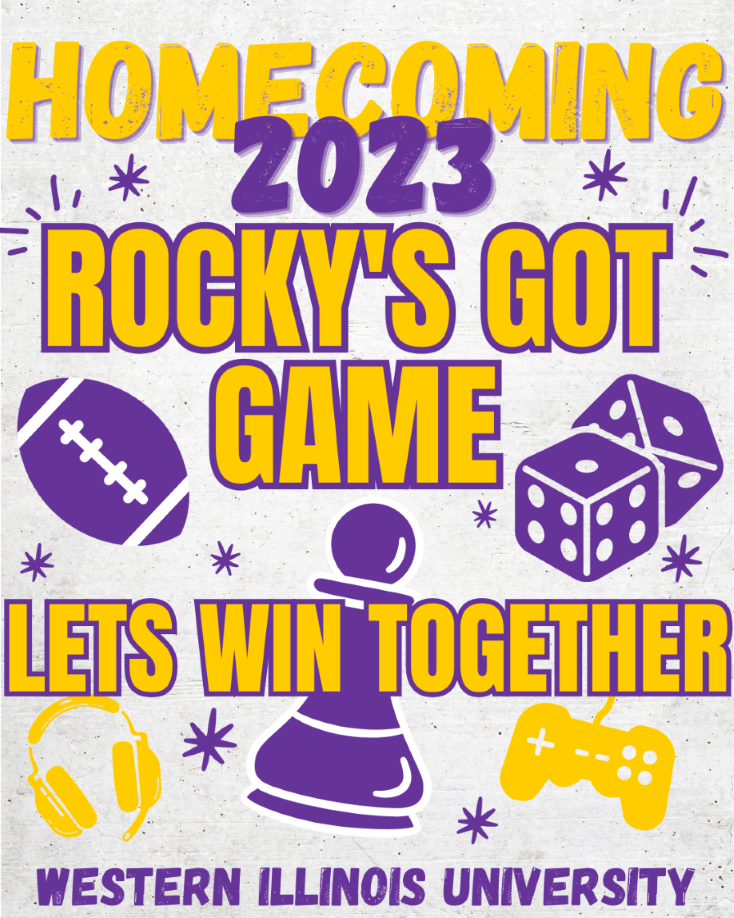 Want to Participate in a Homecoming Event?
Here are some steps to help you out.
1. Fill out a Homecoming 2023 entry form for each organization per homecoming team.
2. Pay the $10.00 Entry Fee per event to the Office of Student Engagement, there is NO limit on how many events you can participate in.
3.  If you are participating in Rocky's Road Races, WIU's Got Talent or Yell Like Hell, you are required to fill out a Homecoming 2023 Liability Waiver Form.
4. If you are participating in the Homecoming Parade,  please fill out the Homecoming 2023 Parade Form.
5. Review the Homecoming 2023 Rulebook for rules, regulations, and specified details.
Schedule of Events:
October 6th 1:30pm



Paint the Paws

October 7th | 10am-12pm

Paint the Town 
Downtown Square

October 8th | 2pm

Rocky's Boat Regatta

October 9th | 4pm

Rocky's Road Races
Alumni Plaza

 

October 10th | 6pm

Western's Got Talent 
Western Hall

October 11th | 5pm

Clean the Campus
Alumni Plaza

October 12th | 7pm

Yell Like Hell
Western Hall

October 14h | 10:30am

Homecoming Parade 
Downtown Square to Alumni House
*If you have any questions, please email uubhomecoming@wiu.edu 
Important Information:






________________________________
Have questions?
Send an email to uubhomecoming@wiu.edu
Connect