Earth, Atmospheric, and Geographic Information Sciences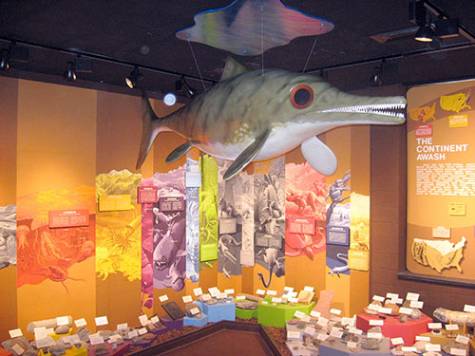 WIU's Museum of Geology
Western Illinois University's Museum of Geology was founded in 1975 as an arm of the Department of Geology - Now the Department of Earth, Atmospheric, and Geographic Information Sciences (EAGIS). Originally conceived as a learning resource center for students enrolled in the natural sciences, it also serves the general public and is dedicated to cultural enrichment and public understanding of Earth Sciences.
Our growing Museum houses more than forty displays and exhibits covering Earth History and processes as well as Earth materials and resources. Touring the Museum you will be introduced to the fascinating world of rocks, minerals and their economic uses. You may wish to learn about the origin and occurrence of coal, oil and gas, or find out about how glaciers of the Ice Age formed the soils, landscape and drainage systems of Illinois. You can see how Earth materials are naturally recycled and discover how rocks and fossils provide clues to the Earth's past. You may wish to learn how the continents move, where ocean basins come from, and how mountain ranges form. Or you may step back into time for a fascinating tour of the animals, plants and environments of the past; introduce yourself to the world of dinosaurs, or learn about the seaways and coal swamps which covered Illinois in ancient times.
Visit
The Museum of Geology is on the first floor of Tillman Hall on WIU's Macomb campus. Tillman lies between Adams and Murray Streets just northwest of Sherman Hall. The Museum welcomes groups of all kinds: school groups of all ages, church and youth groups, senior citizens and others. The Museum is open to the public 9:00 a.m. to noon and 1:00 to 4:30 p.m. Monday through Friday during the school year, and at other times by special arrangement. Admission is free.
Contact
Please contact us for more information or to arrange special tours conducted by faculty or staff members.
The Department of Earth, Atmospheric, and Geographic Information Sciences (EAGIS)
Location: Tillman Hall 312
Phone: (309) 298-1648
Email: EAGIS@wiu.edu
Geology Museums