Earth, Atmospheric, and Geographic Information Sciences

EAGIS Student Organizations
Geology Club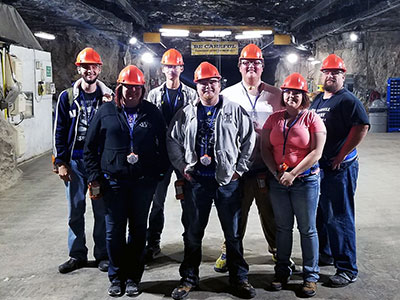 The WIU Geology Club offers close contact between fellow students interested in geology and faculty in a friendly social setting. The Geology Club sponsors guest speakers and organizes scholarship fundraising activities, as well as promoting job contacts and study groups. Other activities include rock, mineral, and fossil collecting field trips, picnics, and educational trips.
Faculty Advisor
Kyle Mayborn, Professor of Geology
Tillman Hall 113
(309) 298-1577
KR-Mayborn@wiu.edu
Severe Weather Club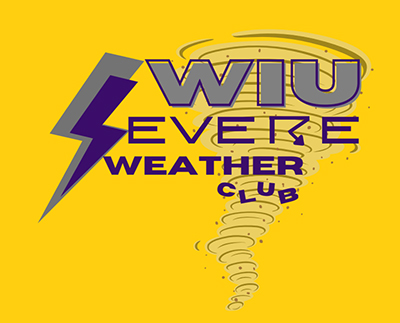 Connect with us
Faculty Advisor
Redina Finch, Professor of Meteorology
Tillman Hall 410C
(309) 298-1764
RL-Finch@wiu.edu
Student Society of Geography
The Student Society of Geography is open to all students in good academic standing who are interested in geography, regardless of major. The societies sponsor a lecture series, numerous field trips, and other activities of interest.
Gamma Theta Upsilon (GTU)
Gamma Theta Upsilon is the International Honor Society in geography open to students who have completed at least nine hours of geography courses with at least a 3.3 GPA. For more information, visit gammathetaupsilon.org.
Sigma Gamma Epsilon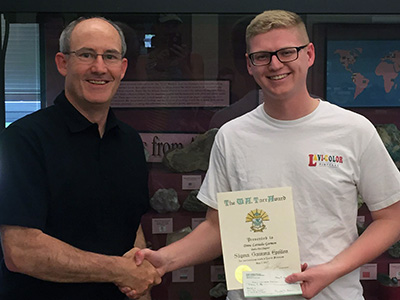 Sigma Gamma Epsilon (SGE, sgeearth.org ) is a national honorary society for the Earth Sciences established to recognize scholarship and professionalism. SGE was founded at the University of Kansas in 1915 and contains chapters nationwide. The Delta Psi Chapter of SGE was founded at WIU on April 30, 1982. Students wishing to join Sigma Gamma Epsilon must have at least a 3.0 G.P.A. in their Earth Science courses and a 2.67 G.P.A. overall. Members of the WIU chapter of SGE sponsor guest speakers and organize field trips, often in cooperation with the WIU Geology Club. Members are encouraged to submit articles resulting from undergraduate research projects to the peer-reviewed professional journal of the society, The Compass.
Faculty Advisor
Steve Bennett, Associate Professor of Geology
Tillman Hall 109
(309) 298-1256
SW-Bennett1@wiu.edu