Race, Religion, Gender, and Multidisciplinary Studies
Dr. Betsy Perabo, Professor of Religious Studies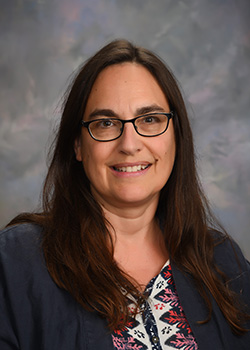 B.A., Northwestern University; M.Div., Harvard Divinity School; Ph.D., Yale University
Coordinator, Department of Race, Religion, Gender, and Multidisciplinary Studies
Program Coordinator, African American Studies, Religious Studies, and Women's Studies
Dr. Perabo joined the Department in 2005.
Contact Info
Office: Morgan Hall 232C
Phone: (309) 298-2214
E-mail: BC-Perabo@wiu.edu
Office Hours: Please contact Dr. Perabo for the current semester's office hours.
Courses
LAS 195 - Introduction to Liberal Arts and Sciences
LAS 495 - Liberal Arts and Sciences Senior Capstone
REL 101 - Religion and Popular Culture
REL 111 - Introduction to Western Religions
REL 300 - Religion, Ethics, and Law
REL 301 - Religion in America
REL 303 - Women in Religion
REL 456 - Religion and War
REL 494 - Religion and African American Culture
WS 190 - Introduction to Women's Studies
Areas of Specialization
Religious Ethics; Religion and War; Women and Religion
Selected Publications
Russian Orthodoxy and the Russo-Japanese War (London: Bloomsbury Press, 2017).
"What People are For: Agrarianism and Religion in the Heartland." In Tom Sadler, ed., Local Food Systems and Activism in the Heartland: An Interdisciplinary Perspective (Common Ground Publishing, 2013): 146-161.
"How Soldiers, Too, Can Be Saved: Allegiance and Idolatry in the U.S. Military." Political Theology 11:2 (2010): 247-270.
"The Proportionate Treatment of Enemy Subjects: A Reformulation of the Principle of Discrimination." Journal of Military Ethics 7:2 (2008): 136-156.
Selected Conference Presentations
Refereed:
"Clergy, Protest, and Rebellion: Russia's 1905 Revolution." Society of Christian Ethics, Louisville, Kentucky, January 3-6, 2019.
"The Novel as Sacred Text:  Teaching Station Eleven." Teaching Religion Section and SBL Academic Teaching and Biblical Studies Section, American Academy of Religion, San Antonio, Texas, November 19-22, 2016.
"The Christ-Loving Military: War, Empire, and Political Theology in Russia." Society of Christian Ethics, Toronto, Ontario, January 8-10, 2016.
"Christ-Loving Soldiers of a Christian Nation?  Religion and the Military in Late Imperial Russia." Sixth Biennial Conference of the Association for the Study of Eastern Christian History and Culture, Memphis, Tennessee, September 17-19, 2015.
"Churches at War: The Conflict between Protestant and Orthodox Missions in the Russo-Japanese War." Ecclesiological Investigations Group, American Academy of Religion, San Diego, CA, November 21-24, 2014.
"Political Theology in Time of War: Nikolai of Japan on Patriotism and Orthodoxy." Religion and Politics Section, American Academy of Religion, Baltimore, MD, November 22-25, 2013.
Organizational Memberships/Affiliations
American Academy of Religion; Society of Christian Ethics; Association for the Study of Eastern Christian History and Culture