School of Agriculture

Welcome to the Western Illinois University Sheep Unit
---
Located just east of the President's Residence at 2145 Wigwam Hollow Road, the WIU Sheep Unit works in conjunction with the cow herd, crops unit, swine unit and bull test to make up the WIU Agricultural Field Laboratory.
Currently, the WIU Flock consists of 50 spring lambing Hampshire influenced club lamb type ewes. The focus of our breeding program is to select for seedstock and elite prospects that can create a positive impact within our Industry. In addition to selection, grazing management and pasture improvement is a strong focus. Through the use of cool season grasses and alternative forages, the WIU ewe flock is maintained on standing forages for the majority of the year.
Sound, innovative and efficient sheep husbandry practices are our priority. Through sheep related classwork, demonstrations and experiential learning, WIU students have the unique opportunity to observe the discipline of modern mid-western sheep production. In addition to other School of Agriculture classes, Sheep Science class delves into the specifics of mankind's domestication and interaction with ovis aries. Students enrolled in Sheep Science (ANSC 419) will take part in a detailed exploration of world sheep history and evolution, along with an overview of breeds and trends that make up the lamb and wool landscape in modern-day America. Sheep products, health, reproduction, nutrition, predation, and marketing are coursework topics. And, during laboratory sessions, Sheep Science students utilize the WIU Flock for hands-on learning opportunities that range from basic sheep behavior and instincts to sheep facility design, reproductive management and newborn lamb care. WIU's Sheep Science curriculum is designed to open windows and engage students regardless of their pre-college sheep production experience level. By the end of the semester, students should have a base of knowledge and resources that allows them to develop an annual management calendar, and navigate real-world sheep production challenges.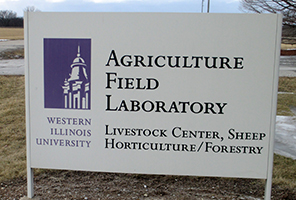 Contact Us
Visitors are always welcome! Whether you're a prospective student, current student or someone with an Animal Science interest, we'd enjoy the opportunity to give you or your organization a tour of our program.
Dr. Mark Hoge Associate Professor, Animal Science Evaluation Station
Phone: (309) 298-2537
Email: MD-Hoge@wiu.edu