College of Education & Human Services
Educational Centers
The Children's Literature Examination Center (CLEC) is a non-circulating professional collection of trade books for children and young adults ages preschool through grade 12. CLEC's collection includes picture books, poetry, folklore, informational books, biographies, novels, graphic novels, bilingual trade books, and unusual formats.
---
Since the early 1970's the Science Education Center has been an integral component of the College of Education and Human Services as well as the School of Education. The members of the School's Science Education faculty make up the staff of the Science Education Center.
In addition to providing instruction to undergraduate and graduate students, the Science Center provides outreach programs both locally and throughout Illinois. Three of the Science Education Center events include the Annual PreK-8 Science Update Conference, the Regional Competition of the Illinois Science Olympiad, as well as Family Science Nights. Other forms of support also include numerous professional development inservices for educators in the west-central Illinois region. The recent addition (2019-2020) of the Science Center Museum has added a historical component to learning about science.   
---
The mission of the Western Illinois University Reading Center is to provide essential services in reading and related areas which otherwise may not be readily available to the population which the Reading Center serves.
The School of Education at Western Illinois University offers a variety of services through the Reading Center, including:
assessment services in reading and related areas to individuals in west central Illinois
materials available for check out to students and faculty in the School of Education
consultation and staff development services for public and private school teachers, administrators and members of the WIU community
operates the America Reads Challenge tutoring program at several area elementary schools (WIU students serve as tutors in this after school program.)
engages in research related to literacy
---
The Social Studies Center houses a collection of resources related to the teaching of history and the social sciences.  The Center has a collection of law-related education materials which are utilized by students in their course work. Several years ago the Center began housing a collection of American History resources for a U.S. History Education Grant entitled Learning Our Past, Securing Our Future: An Enduring Partnership in Excellence.  In addition, the Center also has a collection of elementary, middle level, and secondary social studies textbooks which includes a number of teacher's editions and supplementary materials.   The Center also has a small collection of children's literature related to social studies themes.
---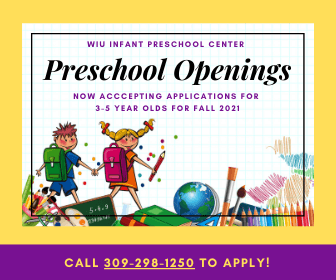 The WIU Infant and Preschool Center strives to maintain a program that is geared to the optimal development of the growing child.
The goals of the center are to aid the children to:
develop and maintain positive feelings about themselves and about their own abilities to create and to learn;
develop their awareness of the world around them through sensory experiences-opportunities to see, hear, taste, smell – that are prerequisites for developing concepts and solving problems;
develop and improve language through listening, speaking, and dramatic play activities, which form the basis for reading, writing, and other communication skills;
develop an ability to express, both verbally and nonverbally, feelings such as joy, happiness, fear, and anger in acceptable ways;
develop maximum physical growth and health through motor activities and proper nutrition;
develop an awareness of their strengths and limitations; cope with success, failure, and change;
develop effective ways of coping with stress in their lives;
develop and support the dispositions of persistence, focused participation, hypothesis testing, risk taking, and self-regulation through a curriculum that encourages choice and active participation;
develop the capacity to see themselves as part of humanity who show respect and concern for rights and property of others;
develop an appreciation for life, through interactions with others and by caring for pets and plants in the classroom.
We strive to meet these goals through children's involvement with caring adults, varied materials, and engaging experiences.