The Right Choice for Your Success
Establish a Scholarship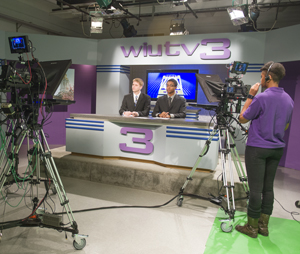 WIU Foundation's Scholarship Program represents a strong tradition of helping students, and the program is continually growing with new scholarships established every year. This unprecedented support and generosity has laid the groundwork for what the WIU Foundation Scholarship Program has become today -- one of the finest regional university scholarship programs in the Midwest.
Many individuals personally know the difference scholarships can make. For them, continuing the tradition of giving is the best way to say thank you to those who made their own education possible and to pave the way for future generations. Establishing a scholarship or adding to an existing one, is an easy way to make a difference in the lives of Western students.
Endowed Scholarships
Annual scholarships are awarded on a yearly basis and maintained through yearly contributions. Donors establishing an annual scholarship will make the greatest impact by contributing a minimum of $1,000 annually. These scholarships continue only as long as the donor provides annual gifts to sustain them.
Endowed scholarships require a minimum gift of $25,000, which is invested by the WIU Foundation to support programs in perpetuity. The principal remains intact, and interest earned by the endowment is used to support the scholarship. Typical spending for an endowment fund is approximately 4.5%. Any additional earnings are reinvested in the fund to ensure future growth.
Scholarship endowments can be established with a single gift of cash, securities or other property, or may be funded with a series of gifts made over time. They can also be funded through a bequest or other deferred gifts, or through a combination of lifetime and deferred gifts.
Criteria to Establish a Scholarship
WIU Foundation staff can assist donors with writing a detailed scholarship agreement specifying how the fund will be used and administered. Criteria for the scholarship awards may be based on academic achievement, financial need or both; and may be made available to students enrolled in a designated college, department, and area of study or program.
As a special tribute each fall, the WIU Foundation provides an opportunity for donors and scholarship recipients to meet and be recognized at the Annual Scholarship Recognition Ceremonies.
Scholarship Program Contacts
The Scholarship Office assists students seeking scholarship information. For more information, please call (309) 298-2001 for Ally Magee, Director of Scholarship Office.