Financial Aid
Money Management - Top Picks for WIU Students

Think of it as your crash course in money management. The goal? To help you become confident and financially independent as you continue your education. When you learn how to take control of your money, your money will not take control of you.
Debt burden is the percentage of your future monthly income that will be required to make student loan repayments. Student aid research generally considers a monthly debt burden of 8-10% of income as "manageable". Use the Debt/Salary Wizard to determine what your manageable debt burden should be.

How to make sure that the way you manage your money falls in line with the values that matter most to you.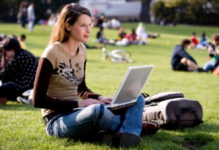 Your credit score is the key to your financial life and is used by mortgage lenders, car loan lenders, credit card companies, landlords, cell-phone companies, and even prospective employers to size whether you are a good or bad credit risk.