Financial Aid
Our office is now open for limited interaction and visits. Students are still encouraged to utilize a virtual environment to contact us in order to keep you healthy and limit contact. Please send documents via email or fax.
We are happy to visit with you by:
Phone: (309)298-2446
Email: financial-aid@wiu.edu
Fax: (309) 298-2353
Call to Schedule an Appointment

 
Welcome to Financial Aid
"The mission of the Western Illinois University Office of Financial Aid is to provide all students and their families with resources for success through efficient and timely customer service, equitable disbursement of financial awards, and educational programming related to financial literacy.  Through these actions, our goal is to maintain a positive environment that will help create opportunities for equal access to post-secondary education and increase student retention."  
No need to apply for Summer 2022 Financial Aid!
Summer 2022 aid eligibility will be determined using registered hours and remaining 2021-22 aid eligibility*. Students are no longer required to file a summer aid application to apply for summer aid.
*Students graduating Summer 2022 or Fall 2022 who have completed a 2022-23 FAFSA may be able to "borrow" financial aid eligibility from the 2022-23 academic year. This will be noted on your award notification, if applicable.
If you have questions, wish to cancel or reduce funds, or your enrollment changes, contact the Financial Aid Office, Sherman Hall 127, by calling 309/298-2446 or email financial-aid@wiu.edu. Visit our Summer Aid page for more information.
Register to Win
Fall 2022 registration is OPEN! Students who register for a minimum of 6 credit hours by June 30th, 2022 (11:59PM) will be entered to win one of three grand prizes: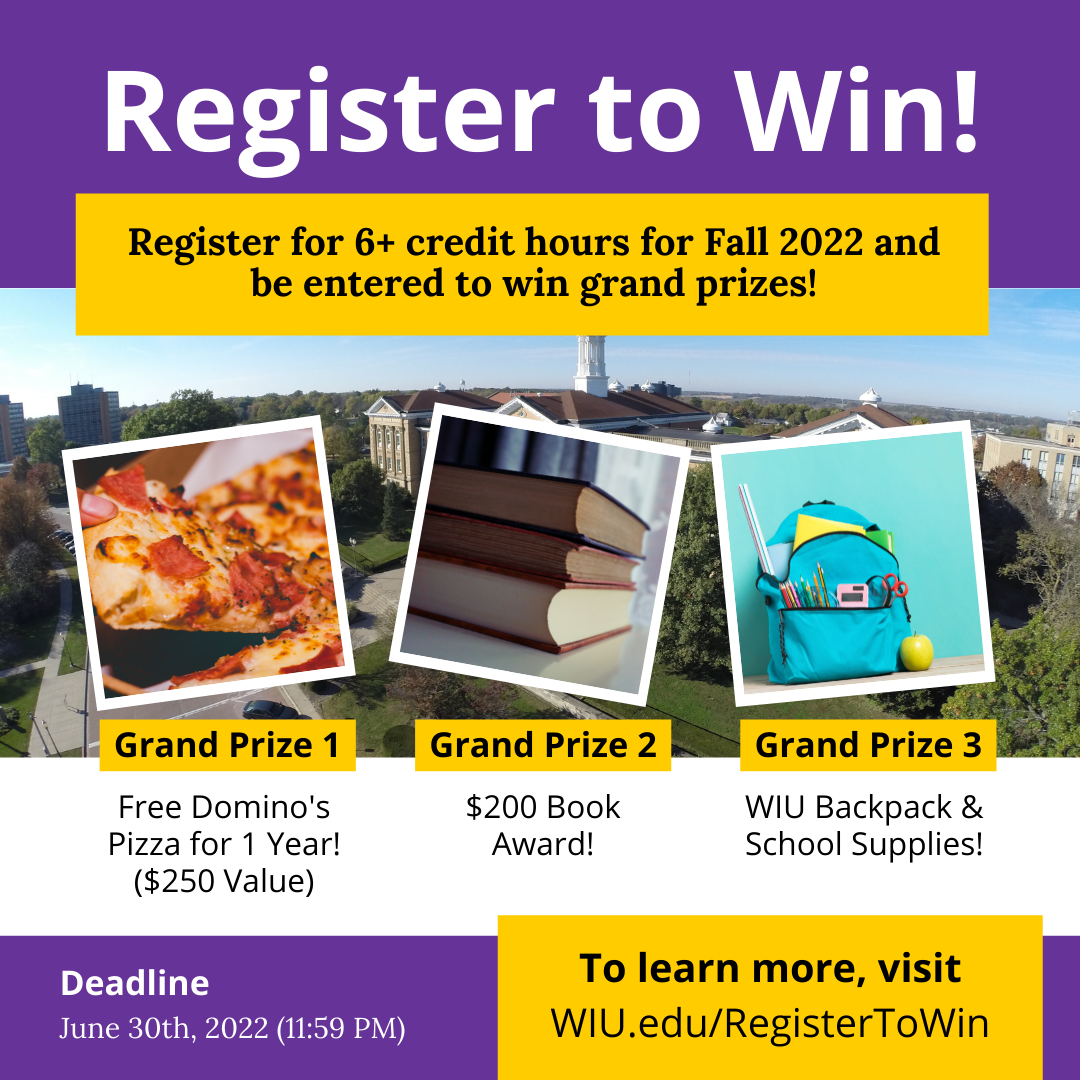 Free Domino's Pizza for a Year ($250 value)

$200 Book Award

WIU Backpack & School Supplies
Grand prize winners will be randomly selected the week of July 4th, 2022. In addition, weekly prizes will be drawn each Monday which will consist of WIU merchandise, gift cards, and more. We will randomly select winners from a pool of every student who has registered for classes up until that date.
For more details and a full list of ways to get additional entries, see our register to win webpage.
Change in Disbursment of Aid Beginning Fall 2022
Beginning with the 2022-23 academic year, federal aid (i.e. Pell, Federal Student/Parent/Grad Direct Loans, Federal Supplemental Education Opportunity Grants, and TEACH grants) will be disbursed and applied to student accounts following the 10th day of the term. As a result of this delay in disbursement, excess financial aid (federal/state grants, institutional scholarships, and federal direct loans) will be ordered beginning the third week of the semester.
Beginning Fall 2022, all registered students will be allowed to charge up to $600 each semester at the University Bookstore for required textbooks and supplies (no soft goods) through the 8th day of a term.

See our Financial Aid Policy for more information.
Looking for your Award Letter?
We have started processing FAFSAs for the 2022-23 Academic Year. Award letters for new freshman will be sent out starting in January. New transfer and returning students are expected to receive award letters starting at the beginning of March. 
Keep an eye on your WIU email and  STARS Account. If you have been selected for  Verification, we may need additional documents before we can process your Award Letter. Make sure to turn in the requested documents as soon as possible so that we can generate your award letter based on the timeline above. You will be notified via WIU Email and a notification in  STARS  if you have been selected for  Verification. 
Get Started
There's a lot to cover, so the best place to begin is our Getting Started section - here you can find checklists, timelines, helpful hints, and other tools created specifically for WIU students.
The first step is always completing the Free Application for Federal Student Aid (FAFSA), which can be completed online. If you're looking for a quick and easy review, check out the:
Of course, different types of students may need different information. Click below to determine if there are any specific instructions or requirements that may apply to you:
Stay in Touch
Are you looking for an easy way to stay up to date in the world of financial aid? Like us on Facebook and follow us on Twitter and Instagram! These are both great and convenient ways for WIU students and parents to receive regular reminders, updates, and current financial aid news directly from our office.