Alumni
2011 Town & Gown Award
Mick Wisslead
To recognize his contributions to Western Illinois University and the Macomb community, Mick Wisslead has been named the recipient of the 2011 Town & Gown Award from the WIU Alumni Association.
The Town & Gown Award, presented to an individual who has provided exceptional service to WIU and the community, was announced at the April 8 Town & Gown celebration.
Wisslead began his first four-year term as mayor of Macomb in May 2003, after retiring from a 33-year career in the banking industry. He was sworn into office for his second four-year term in May 2007. He will retire as mayor later this month.
Along with fostering a positive relationship with Western Illinois University during his terms as mayor, Wisslead also made economic development a priority, helping to bring such businesses as Pella Windows to Macomb. He currently serves on several boards and committees, including the Macomb Area Economic Development Corporation Executive Committee (MAEDCO); the Community University Partnership Program (CUPP); and the Western Illinois Economic Development Authority (WIEDA). He is also a member of the Illinois Municipal League Board and has served as the past chair of the Illinois Public Airport Association.
Prior to being elected mayor, Wisslead was an active member of the Macomb community, serving on the Airport Authority Board, the Macomb Park District Board and as a member of the Macomb City Council for 13 years.
"Mick's relationship with, and support for, Western Illinois University goes back many years. As a Macomb native, Mick has recognized the importance of a solid relationship between Western and the community. The Town & Gown Award is a testament to his dedication to Western and Macomb," said Amy Spelman, director of Alumni Relations.
Previous Town & Gown award recipients include:  Lin Stults (2010), Jerry Cremer (2009), John Maguire (2008) and Charles Gilbert (2007).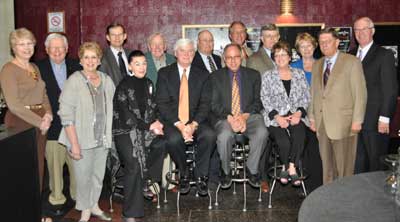 Alumni Award recipients at Town & Gown 2011