Alumni
2015 Honorary Doctorate of Humane Letters
Hyuk-Jong Kim
Western Illinois University graduate Hyuk-Jong Kim, president of Gwangju University in Korea, will receive the Western Illinois University Honorary Doctorate of Humane Letters at Western's Spring 2015 Commencement exercises Saturday, May 16.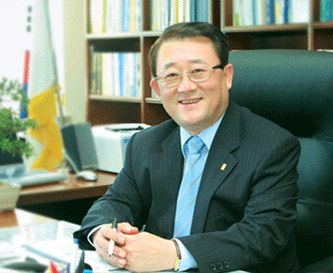 The Honorary Doctorate is the highest award Western Illinois University can bestow upon an individual who has made significant contributions to his/her career and to Western Illinois University. Kim's father, Gwangju University's founder In-Kon Kim, received an honorary doctorate from WIU in 1983.
Kim received his master's in education from Western in 1987. He has served as president of Gwangju University since May 2003. Kim joined the Gwangju faculty in 1987, teaching in the department of education. He was named director of the Office of Planning at Gwangju in March 1994, a position he held in addition to teaching education classes until April 2003. He serves as a board member of the Korean University Education Association; as chair of the Gwangju-Jeonnam University Presidents Association; as a board member of the Daedong Cultural Foundation; and a member of the promotion committee for the Gwangju World Women's Forum for Peace. He has served as an adviser to the Presidential Committee on Balanced National Development and to the Council for the Promotion of the 2012 World Expo to the Provincial Area.
Kim has been instrumental in supporting Gwangju University students who attend Western's summer program, which allows students to further enhance their English skills and learn more about American culture. In addition, Kim has hosted a delegation of Western faculty and administrators at Gwangju University.
"Dr. Kim's contributions to higher education and his support of Western Illinois University are greatly appreciated. Dr. Kim is an outstanding example of a successful professional we are proud to call a WIU alumnus and friend," said WIU President Jack Thomas. "It is with great pride that we bestow upon Dr. Kim an honorary doctorate from his alma mater."
Kim received Western's inaugural International Alumni Achievement Award in 2010. He is a member of the Inspection Council for the Ministry of Justice and is a Standing Representative of the Main Center for the Mutual Support of the Two Koreas. He is also currently serving as a committee board member for the Gwangju 2015 Summer Universiade.
Kim received his bachelor's degree from Sungkyunkwan University and his doctorate from the University of Kansas-Lawrence.