College of Arts and Sciences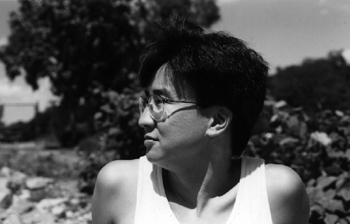 Timothy Liu, Fall 2009
Timothy Liu is the author of eight books of poems, including Of Thee I Sing (2004 Book-of-the-Year Award from Publishers Weekly ) and Vox Angelica (1992 Norma Farber First Book Award from the Poetry Society of America). His poems have been translated into ten languages, and his papers and journals are archived in the Berg Collection at the New York Public Library. Liu lives in Manhattan.
An Evening Train
whistles past hacked-down fields of corn,
heading towards a boy who whittles
an effigy of himself. We go on sleeping
through sirens and crimson strobes
flashing on remains no one can identify
till we line up at dawn to see who's
missing. At the zoo this morning, a girl
found half-devoured in a moat, two lions
licking their chops, Little Rock, Arkansas
the only proof left on her body to show
how far she was from home, a tattered copy
of The Odyssey later found in her purse.
Did she love her life? We warn our children
not to lay their ears down on the tracks
in wintertime, knowing how it's not
always best to know what's coming our way.