College of Arts and Sciences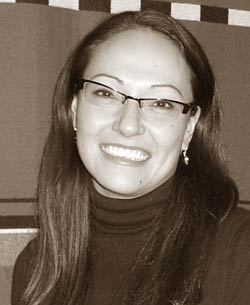 Mandy Smoker, Spring 2007
Thursday April 5: Poetry reading, 7:00 pm, University Art Gallery.
Wednesday April 4: Question & Answer, 4:00pm, University Writing Center (Simpkins 341).
M.L. Smoker belongs to the Assiniboine and Sioux tribes of the Fort Peck Reservation in northeastern Montana.
She holds an MFA from the University of Montana in Missoula, where she was the recipient of the Richard Hugo Fellowship. She is also a graduate of Pepperdine University, and attended UCLA and the University of Colorado, where she was a Battrick Fellow.
Her first collection of poems, Another Attempt at Rescue, was published by Hanging Loose Press in the spring of 2005. Her poems have also appeared in Shenendoah, South Dakota Review, Many Mountains Moving and have been translated for Acoma, an Italian literary journal published by the University of Rome. Her work is forthcoming in several anthologies and a short story is published in Hozho-Walking in Beauty: Native American Stories of Inspiration, Humor and Life, edited by Paula Gunn Allen.
Debra Magpie Earling had this to say about Another Attempt, "These poems are like a collective soul ... not just mythical, but the voice of myth itself." Jim Harrison called the collection "an impressive first book, though there is nothing here that reminds me of a first book. This is the work of an accomplished and mature poet with a rare and first-rate mind."
M.L. Smoker currently resides in Helena, Montana, where she works for the Office of Public Instruction, in the Indian Education Division. She was formerly an administrator in an all-Indian school for three years in Frazer, Montana.