English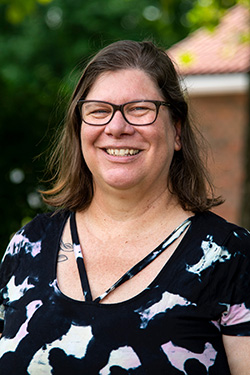 Rebekah Buchanan
Professor and Director of English Education
Zines and alternative presses, new literacy studies, youth subcultures, literacy practices
Ph.D. in Urban Education (Language and Literacy), Women's Studies, Temple University (2009)
Dr. Rebekah Buchanan teaches English Education, Basic Writing, and Professional Writing Courses, and leads a Harry Potter Study Abroad course. She was a 2018-2019 Fulbright Roving Scholar to Norway where she spent a year conducting workshops on United States history, culture, and politics to students and teachers in upper secondary schools (videregående skoles) across Norway.
Her research focuses on feminism, activism, and literacy practices in youth culture, specifically through zines and music. She has written Writing a Riot: Riot Grrrl Zines and Feminist Rhetorics (Peter Lang, 2018). In addition, she has published articles on popular culture in the classroom, youth's out of school literacy practices, music-based pedagogy, punk, and creating writing programs for dissertators.
Buchanan Co-Directs the Institute for Social Justice Pedagogies at WIU and does literacy work on and off-campus. She also does writing workshops in area prisons, jails, and youth detention centers.
Currently, she is working on projects around teaching in Norway, Norwegian prison education, and reading and activism in the Harry Potter series. You can learn more about her research and work at rebekahjbuchanan.com.