English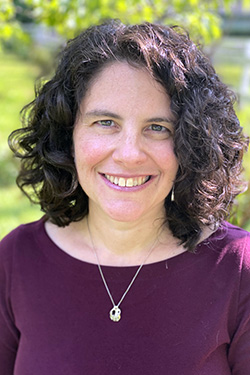 Amy Patrick Mossman
Professor
Sustainability Studies; Ecocriticism; Rhetoric; Writing Studies; Env. Communication
Ph.D. Rhetoric and Scientific and Technical Communication
Office: Simpkins 022
Phone: (309) 298-1103 (Department of English line)
Email: ap-mossman@wiu.edu
Amy received her doctorate in Rhetoric and Scientific and Technical Communication from the University of Minnesota, Twin Cities with a focus in environmental rhetoric. She also holds an M.A. in Literature and Environment from the University of Nevada, Reno and a B.S. from the University of Massachusetts, Amherst in Geology and Earth Systems. At Western, she teaches environmental humanities, rhetoric, and writing courses. Her current research interests originate at the interdisciplinary intersection of sustainability, ecocriticism, and writing studies. Her poetry has appeared in Flyway, Magnolia, Mizna, and Anchor Magazine.
Publications
"Retrofitting the Ivory Tower: Engaging Global Sustainability Challenges through Interdisciplinary Problem-Oriented Education, Research, and Partnerships in US Higher Education." Journal of Higher Education Outreach and Engagement, Mar 2018, vol 22, no 1, pp. 35-60.
"V Is for Voices: Engaging Student Interest, Sustaining Student Thinking and Writing in Today's Writing Classrooms with Fountainhead Press's V Series." Composition Forum Spring 2012, vol 25. Online.
"Sustaining Writing Theory." Composition Forum 21 (February 2010). Online. Rpt. in The Best of the Independent Rhetoric and Composition Journals: 2010. Eds. Steve Parks and Brian Bailie. Anderson, SC: Parlor Press, 2011.
"Apocalyptic or Precautionary? Revisioning Texts in Environmental Literature." Coming into Contact: New Essays in Ecocritical Theory and Practice. Eds. A. Ingram, I. Marshall, D. J. Philippon, and A. Sweeting. Atlanta: U of Georgia P, 2007. 141-53.