College of Arts and Sciences
Koritha Mitchell, Spring 2019 Magliocco Lecture
"Homemade Citizenship: All But Inviting Injury"
Even when they embody everything the nation claims to respect, African Americans cannot count on being treated like citizens. Simply consider the black soldiers and nurses who served in the Civil War, WWI, and WWII only to be disfranchised and denigrated … or consider the Ivy League-educated constitutional lawyer who rose to the office of president only to face demands that he "show his papers," his birth certificate and academic transcripts. Though their success will not likely bring them the safety and respectability it should, African Americans seem to cling to all that purportedly makes one an ideal citizen, including the heteronormative nuclear family and its traditional household. What does this pattern of investing against the odds reveal about African American culture? The short answer: homemade citizenship.
April 22th, 2019:
Q&A - 2:00-3:00pm, Gwendolyn Brooks Cultural Center (GBCC) Dance Center
Presentation - 7:00-9:00pm, Morgan 109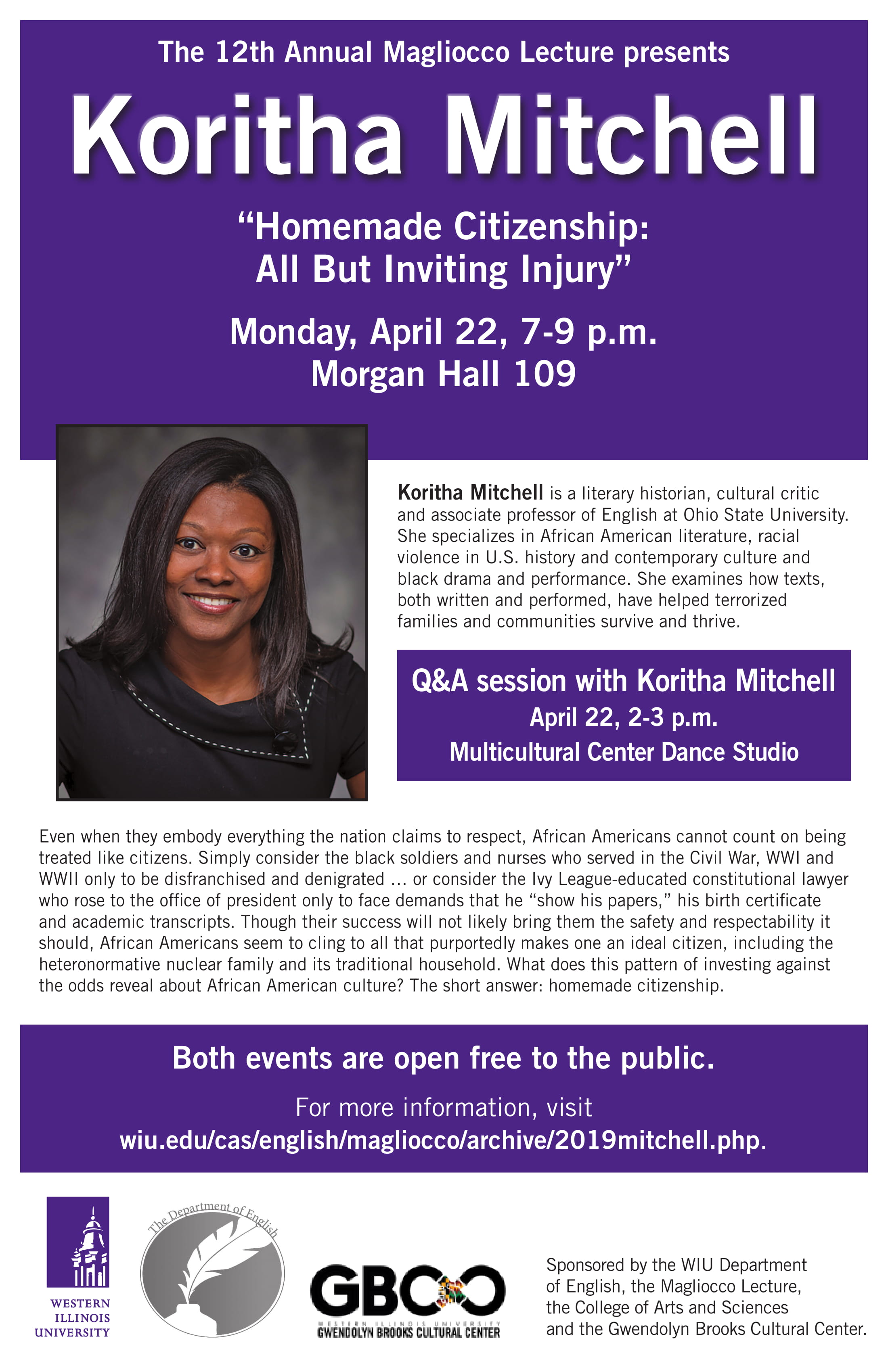 This year's Magliocco Lecture will be Koritha Mitchell. Koritha Mitchell is a literary historian, cultural critic, and associate professor of English at Ohio State University. She specializes in African American literature, racial violence in U.S. history and contemporary culture, and black drama & performance. She examines how texts, both written and performed, have helped terrorized families and communities survive and thrive. Her 2011 study Living with Lynching: African American Lynching Plays, Performance, and Citizenship, 1890 – 1930 won book awards from the American Theatre & Drama Society and from the Society for the Study of American Women Writers. Mitchell's scholarly articles include "James Baldwin, Performance Theorist, Sings the Blues for Mister Charlie" (American Quarterly) and "Love in Action," which draws parallels between racial violence at the last turn of the century and anti-LGBT violence today (Callaloo). She is editor of the Broadview Edition of Frances Harper's 1892 novel Iola Leroy, and she recently completed her second monograph, "From Slave Cabins to the White House: Homemade Citizenship in African American Culture." Mitchell's research has been supported by fellowships from the Ford Foundation, the American Association of University Woman (AAUW), and the Notre Dame Institute for Advanced Study. Her public work has appeared in CNN and The Huffington Post , and she has been quoted by NBC News , PBS Newshour , and  NPR's Morning Edition . On Twitter, she's @ProfKori
PICTURES FROM THE EVENT:
This year's 12th Annual Magliocco Lecture was Koritha Mitchell with her title: "Homemade Citizenship: All But Inviting Injury." A Q&A was held in the Gwendolyn Brooks Cultural Center Dance Studio and her presentation in Morgan Hall 109. The turnout was great and her audience was captivated. Thank you for visiting and sharing so much with us, it was an honor! And thank you  Dr. Magdelyn Helwig for organizing her event!