School of Agriculture
School of Agriculture Home Grown Products
If you are interested in any of these products please order online, stop by Knoblach Hall 145 or contact the School of Agriculture at (309) 298-1080.
Leatherneck Country Meats
Enjoy pork raised on the university farm and cared for by WIU students. Select your custom made bundle or purchase a whole hog processed to your specifications.
All processing will take place at Farmhouse Meats, Inc. in Carthage, IL.
Leatherneck Country Meats order form.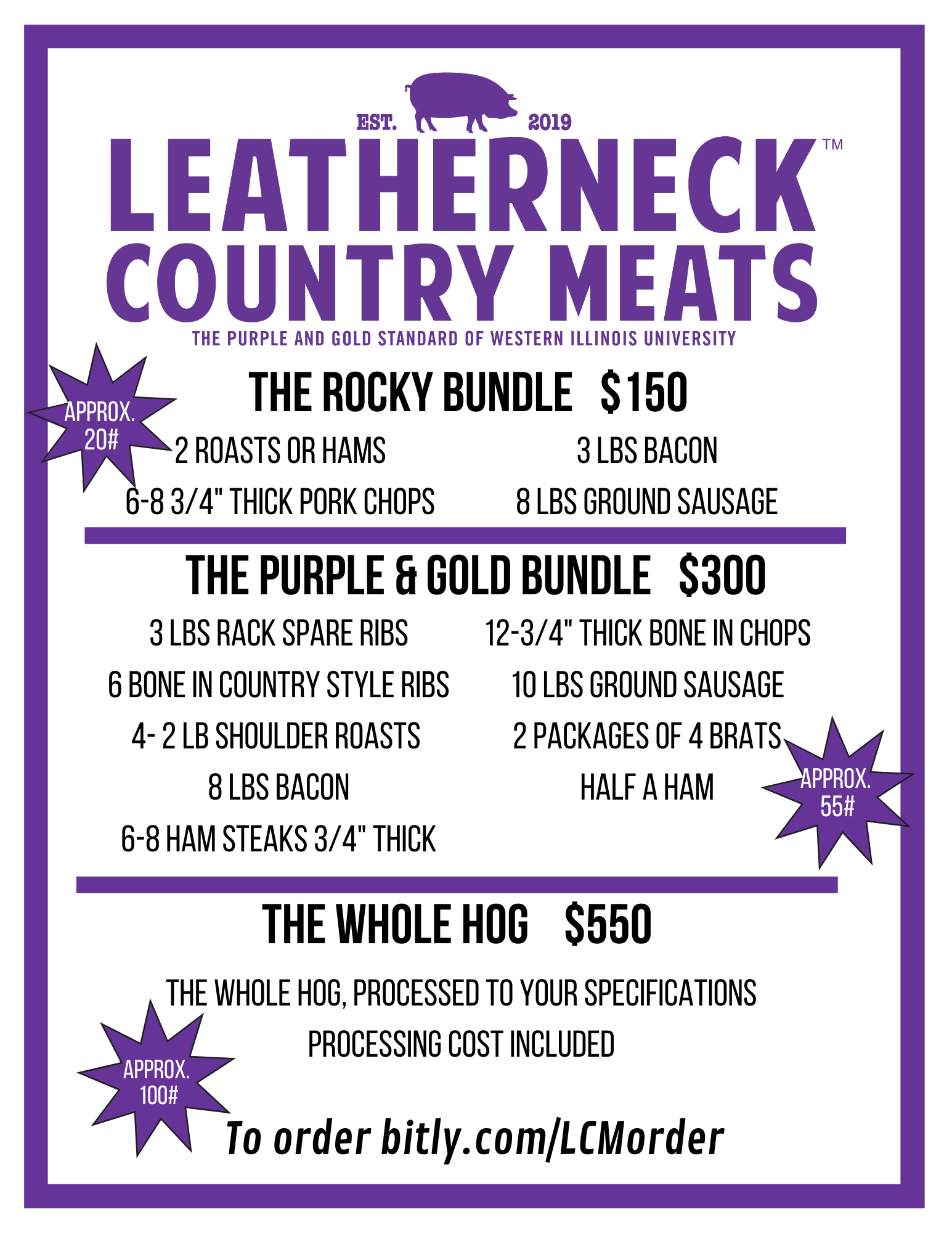 Organic Microwave Popcorn
Do you know anyone who would appreciate a delicious holiday snack that pops with school spirit? We have organic microwave popcorn for sale that has been grown on our very own WIU Farms.
Stop by the School of Agriculture main office, Knoblauch Hall 145, to pick up the perfect stocking stuffer – microwaveable bags of purple and gold popcorn grown on the WIU Allison Organic Research Farm.
Single bags are $2 and box of 24 is $40.
We have started shelling our 2010 crop and have ½ lb ziploc bags available for $2.
Larger quantities are available for $2/lb upon request.
Soybeans
Hard wheat, soft wheat and tofu soybeans are also available upon request for $1.50/lb for quantities under 10 lbs and $1/lb for quantities above 10 lbs.
Please contact the School of Agriculture about possible deliveries for large orders.
Proceeds
Proceeds support the WIU Organic Research program. Please contact Dr. Joel Gruver at (309) 298-1215 for more information.
Represent WIU's School of Agriculture
Check back soon for our latest offering of WIU School of Agriculture apparel.