Financial Aid
Financial Aid Process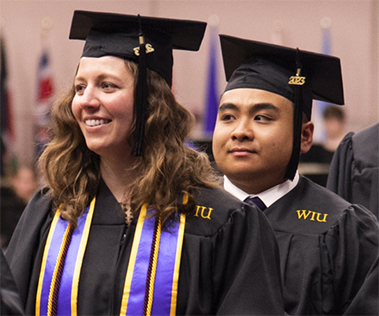 The financial aid application process is an annual activity beginning any time after January 1, 2024 for the upcoming academic year (fall, spring and summer). The first step of the application process is completing The Free Application for Federal Student Aid (FAFSA), which is required for all federal aid (including loans) and the Illinois Monetary Award Program (MAP).
The WIU priority consideration date for applications is March 1, but applications are accepted throughout the year. Financial aid applications are reviewed in the order they are received, and any applications received after August 1 may not be completed prior to the beginning of the fall semester.
Undocumented Students
Undocumented students may still be eligible to apply through ISAC.org to receive Illinois Grants and Scholarships including but not limited to the MAP if they meet the following qualifications.
Did you reside with your parent or legal guardian while attending a public or private high school in Illinois?
Did you graduate from a private or public high school, or receive the equivalent of a high school diploma, in Illinois?
Did you attend school in Illinois for at least three years as of the date you graduated from high school or received the equivalent of a high school diploma?
Will you file an application to become a permanent resident of the United States at the earliest opportunity you are eligible to do so?
Have you NOT established a residence outside of Illinois or hold a visa from another country?
If you believe you qualify for this alternative application to the FAFSA, visit the ISAC website to apply. Please visit the Financial Aid Office, located in Sherman Hall 127 if you would like assistance with the application. 
Completing your FAFSA is always the first step, and must be done each year!
Some students will be required to verify their application information.
Each complete application will be reviewed by a financial aid advisor.
You will be notified of your financial aid awards through your University email.
Certain procedures or requirements can affect when you receive your aid.
Financial Aid Process Topics
Fin-Aid Navigation