Alumni
2008 Honorary Alumni Award
Jack Stites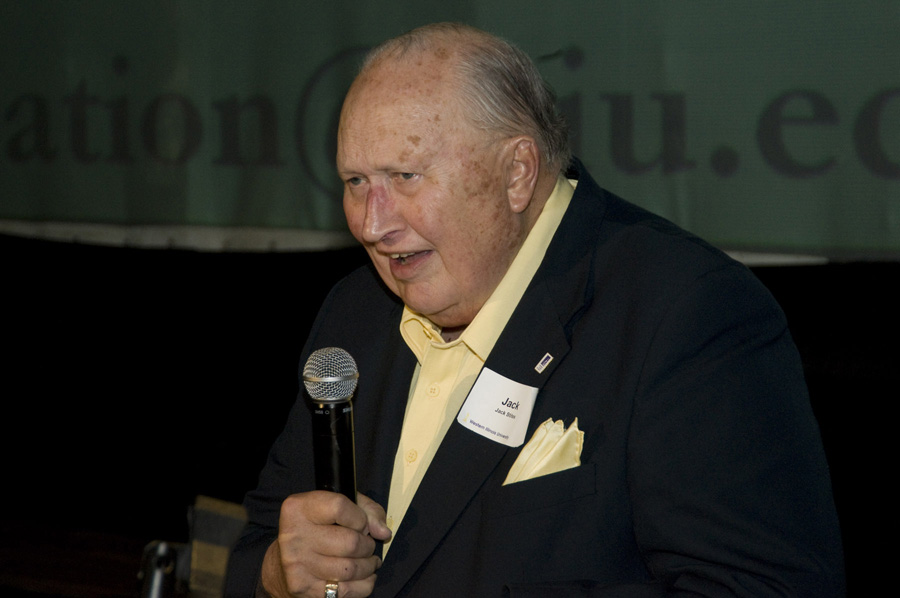 Jack Stites, retired Macomb pharmacist and a member of the Western Illinois University Foundation Board, was presented the 2008 Honorary Alumni Award April 25 during the "Celebrating Town & Gown" event, hosted by the Alumni Association.

The Honorary Alumni Award is presented to an individual who is not a WIU graduate but who has provided exceptional service to the WIU community.

"The General," as he is known to those close to him, played one season of basketball at Western and was an infielder on the 1944 Illinois Intercollegiate Athletic Conference (IIAC) championship baseball team, which swept a doubleheader against Northern Illinois University to capture the state title with just nine players.

Upon his return from a stint in the U.S. Navy as a pharmacist mate, Stites earned his bachelor's degree in pharmacy from the University of Illinois in 1952, then opened Stites Pharmacy in Macomb, which operated for nearly 50 years. In 1982 he added Stites Medical Service to his ventures.

The Industry native has served on Western's Athletic Advising Board since its inception and has served as past president of the WIU Foundation. He was one of the first members of the McDonough County Board of Health, appointed in 1975. Thirty-two years later he remains on the board, serving as treasurer. Stites has been the recipient of the WIU/Macomb Chamber of Commerce Citizen of the Year Award and was inducted into the WIU Athletics Hall of Fame in 2005.

Jack and Margaret Stites donated $10,000 toward the renovation of the WIU baseball stadium, and following Margaret's death, Stites established the Margaret and Jack Stites Pre-Pharmacy Scholarship to honor Margaret. In January 2006 Jack pledged $50,000 to name the Leatherneck Baseball Stadium press box in Margaret's memory.

"Jack's loyalty to this University and the Alumni Association is simply outstanding," said Amy Spelman, director of Alumni Relations. "His dedication and commitment to Western have been remarkable."

This is the 13th year for the WIU Honorary Alumni Award presentation. Previous recipients were Bill Brattain (2007), Marilyn Johnson (2005); Donald Dexter (2004); Mark Martin (2003); Mel and Judy Kerr (2002), Charlene Callison (2001), Ed Holzwarth (2000), Donald S. Spencer (1999), Laura Kent Donahue (1998), Cathy Early (1997), Dick Miller (1995) and Dennis Iversen (1994).